Project: Vehicle Graphic and Back Panel Partial Wrap
Location: Mukilteo, WA
Client: Ron Penelerick
We were contacted by Ron Penelerick to do a last minute partial vehicle wrap for his cool classic car, the Ford Hawkmobile. His car was going to appear in a special event, so Shine On Signs and Graphics, Inc. was honored to be chosen as part of this experience!
Ron's vintage 1937 Ford Hawkmobile is often driven around as for local fundraisers and other events as part of the Wheels of Boom Car Club. This time around, he drove it during the 12s Fan Fest, held at Ocean Shores. The club first got together for car cruises following the sad loss of Super Bowl 49. To see what else the gang is up to, check them out on Facebook by searching for #Hawksmobile.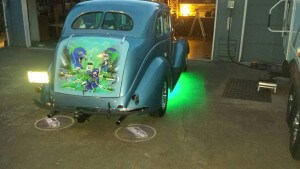 Jonny Green, the artist that designed the graphic, is privileged enough to have a personal relationship with the Seahawks and often creates custom artwork for fans. He chose to go with a faux airbrush effect for a smart and less expensive alternative to paint. The wrap features some of the players, lightning bolts, and the CenturyLink Stadium. A vehicle graphic is also easily removable, unlike a new coat of paint! Except for a subtle blue metallic tint, we were able to match the Seahawks' official team colors: college navy, wolf gray, and action green.
It was so much fun putting together this vehicle wrap for Ron and our team, and we're keeping a close eye on the next Seahawks game against the Rams. Go Seahawks!
Looking for custom graphics like Ron's wrap? Get noticed now with custom vehicle wraps for your car or truck. We can tailor any wrap to fit a whole vehicle or just one side, whatever you want to do! Shine On Signs and Graphics, Inc. in Renton, WA has tons of options for vehicle wraps. Visit our website at shineonsigns.com to get an idea of what we can do for you, or you can call us at (253) 243-7777 and chat about your upcoming project! We can't wait to help your business shine!