The PSSG Team


David Anderson President/CEO
David's background in sales, marketing, nonprofit fundraising, and many years as an executive level leader has found a welcome place at Puget Sound Signs.   David's career has had many interesting stops along the way including several technology companies, and nonprofit organizations.  He attended the University of Washington, College of Engineering Technical Communications and studied technical writing.   That interest quickly translated into work with IBM, Egghead Software, Allied Telesis, WRQ, Mitel, Onvia, and Digital.forest in sales capacities.  His work at Digital.forest evolved into executive leadership where he worked directly for the CEO as the Vice President of Sales and Marketing for 7 years.
For the next 11 years of his career, he led small local non-profits as their Executive Director and raised money as a senior fundraiser for larger organizations namely United Way, Red Cross, and American Diabetes.
David enjoys sports with emphasis on UW sports and Mariner baseball, music, travel, running, outdoor activities, yardwork (yes, really.) and especially loves to share these activities with his daughter, JJ and wife, Tanya who are not always willing participants.

Tanya Anderson CFO/COO
Tanya brings 21 years of finance and executive leadership experience to Puget Sound Signs. A graduate of Santa Clara University, her career has largely been focused on government and non-profit finance.   She served as the Controller at Evergreen Health, a public hospital in Kirkland, WA, for 3 years before branching out into consulting and Senior leadership as a Director of finance at Social Venture Partners.  She is currently the Principal at Nonprofit Finance Consulting LLC.   Her role with Puget Sound signs as the Co-Owner covers all finance and HR responsibilities, and ownership and senior management direction with David.
In her spare time, Tanya also runs a small company focused on meditative dance called Joyful Movement.  She enjoys hiking, outdoor exercise, travel, expressive painting, and gardening.  She especially loves to share all these activities with her daughter, JJ, who is always a willing participant!
Ryan P. Murray Production Manager
Ryan, AKA RPM, brings decades of print, sign and design expertise to the team. As well as production management, Ryan is a highly creative and published Graphic Designer, Illustrator and Photographer. He has experience in marketing, with both print and web design. RPM has been using the Adobe suite since 1996. His formal education includes Visual Communication as well as Photography and Prepress. He is much nicer and less intense than his picture suggest.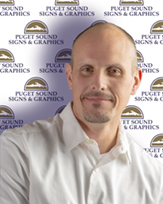 Sam Olmstead 
Sr. Project Manager
Sam is a management professional with 18 years of experience in the manufacturing, metal fabrication, automotive, and design/build industries. He has an intense passion for managing people and projects, His role at Puget Sound Signs and Graphics feeds that hunger.  Bringing someone's vision to life, in any capacity, gives him a great sense of accomplishment.

Dawn Hong
Sales Manager
Dawn brings more than 20 years of sales and business development experience, working in the non-profit sector (Director of the Tacoma HeartWalk) and in her own businesses (a professional nanny service (Capitol Nannies) and a gourmet cupcake boutique (Simply Sweet)). Her entrepreneurial spirit allows her to take ownership in her department. Her sales approach is to never sell, instead she a master problem solver. Born and raised in WV, she is a solid mix of street smarts, a wicked sense of humor and southern charm.
Dawn graduated cum laude from the University of Maryland with a BS in Elementary Education. She also went to culinary school and loves to cook! She loves spending time with her family and their crazy zoo including 5 dogs

Darrin Jones 
Sr. Graphic Designer
Darrin is our Graphic Designer and Production Assistant. He has more than 15 years experience in graphic design ranging from small print to large format signage. He has personally taken projects from concept to finished design. From time to time Darrin will dig into final production and installation. He knows Graphic Designers are expected to be creatives as well as perfectionists. Darrin is most filled with pride whenever a satisfied customer can appreciate their new signage without any flaws.
When not working hard on designs, he will be making the most of his time off. Playing games, watching movies, or simply relaxing at home helps him rejuvenate. He also finds it very important to make time for his friends and family.

Angela Monson
Sales Associate
For Angela's background and biography call 253.246.7849

Kat Pirtle
Sr. Production Associate 
Kat is a creator who loves to make things. She has spent a decade as a production coordinator facilitating the creation of signs and graphics, before determining what she loved most was building the signs herself. In her free time, she is still making things in a variety of different hobbies, including sewing, sculpting, painting, and miniature building.  
Michael Cielo  
Office Manager 
Mission and Values
Our mission is pretty simple: Make Customers Happy. We offer a "100% Happiness Guarantee" on our workmanship. If you are not happy, we are not happy, and we will do everything in our power to make sure that you are happy. Whatever it takes.
Puget Sound Signs and Graphics is a family owned business operated by owners David and Tanya Anderson. We are located in Renton, Washington just outside of Seattle, Washington and north of beautiful Mt. Rainier. Our vinyl and laminate materials are covered with manufacturers' warranties against material defects. These range from one to seven years in most cases. We can provide you with material warranty information upon request, based on the materials that we use for your signs. At the end of each project, we want happy customers who love to be photographed next to their brand new, wonderful sign.
Puget Sound Signs and Graphics Inc. is certified as a Small Contractor and Supplier (SCS) firm.
SCS ID: 2166