Product: Wall Letters
Location: Renton, Washington
Client: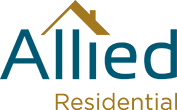 We are always proud to serve local businesses, especially those as committed to serving the community as Allied Residential, a property management company. The good folks there contacted Shine On Signs to create and install a custom lobby sign that would enhance the appeal of their business. As a property management company, they know it's important to make a good first impression when starting to do business with new clients and associates.
We were able to recreate their logo for them using metallic colored dimensional letters, which produced a bold looking wall sign. The final product offers a professional and modern aesthetic, while showcasing the brand with legibility. Whether you are looking to better organize your workplace, remain ADA compliant, or are looking for brand marketing, signs inside your business are as important as those on the outside. Choosing the right signs that best represent your business is so crucial.
When we arrived to do the install, everything was cleared away and ready for us—another reason why we loved working with Allied Residential!
You can see the pattern set up on the wall before installation began. This method ensures a timely and efficient method of mounting any sign product. We were able to have the product fully adhered in less than a half hour.
Allied Residential was so pleased with their new lobby sign that they've asked us to create signage for another property of theirs! Of course, we jumped on the offer, happy to continue to work alongside such a wonderful group of professionals.
Does your property management company need signs? We will provide a free consultation to assess the needs of your company and develop a plan that will bring you an effective, long-lasting, and affordable solution. We have a variety of customizing options that will easily match your business's specific location, style, brand, marketing, and organization goals.
Reach out to our experts to get started on the road to your custom sign solution!