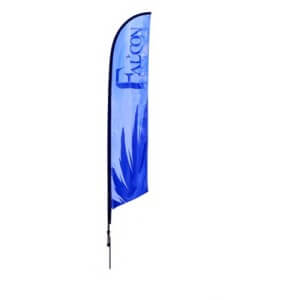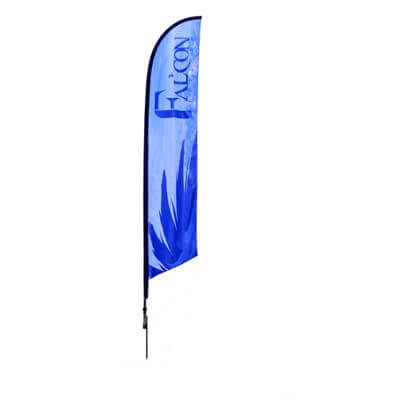 Do you find yourself looking out the window of your store at all the people, wondering when the next customer is going to walk in? Maybe, you are thinking that your signage should be less passive and be taken out to the street— where new business is just strolling by. One successful way of doing that is through the use of A-Boards which are mobile and changeable. But every now and then, an A-board just doesn't get the job done.
You need a solution that elevates your message above the others making you stand out. That's where Falcon Banners come in handy. Standing at an imposing 7 or more feet tall, they are sure to raise your sign (and company) above the rest. As an added benefit, because of their "blowing-in-the-wind" design, it creates motion, which grabs attention. Great for outdoor as well as indoor use, like trade shows for example.
Simply put, falcon flyers are banners on a flag pole. Situated in a weighted stand or spiked in the ground, the pole rises high into the air. Attached to that pole is your custom-made banner. Whether it be a promotion, your company's brand and logo, or a special event, your message is sure to capture the attention of people passing by.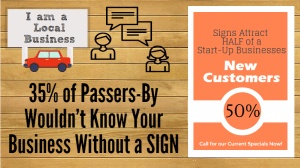 An added benefit of falcon flyers is that once you have a pole (and optional stand), the flyers are interchangeable. Keep special promo banners like sales and events handy to display during those seasonal times. When the time comes for a change, switch it out for a new one!
Falcon flyers designed at Shine On Signs & Graphics are made with the highest quality materials. Using fabric or vinyl and our top of the line printing, your flyer is going to look great and last!