Product: Window Graphics, Privacy Vinyl, Translucent Vinyl, Floor Runners, Lobby Sign
Location: Renton, WA (printed) & Simi Valley, CA (installed)
Client: VDI Laboratory (www.vdilab.com)
Established companies often come to us looking for a new sign here or there. It may be a new lobby sign, building sign, or a POP sign, but it's just one type of sign. This is great of course, and we love to get our clients what they need, but where we really excel is creating a full brand solution for a company by designing and installing all the signage throughout a building. New companies, new locations, and sometimes companies looking for a overhaul of their existing space. That's exactly what we did for VDI Laboratory who was looking for an overhaul of an otherwise sterile looking lab. Let's take a look at the the custom sign solutions we created for them, and how it transformed their building.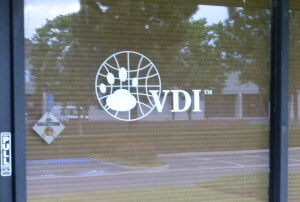 Building Entrance – Window Graphics:
Starting on the outside of the building, we needed to identify that Suite K was VDI Laboratory. We worked with the business park manager and found out they had restrictions regarding the type of external signage allowed on the building. Following their codes and requirements, we put up a white vinyl window graphic of the VDI Logo. You can see we also hung a night "No Solicitors" signs – (ask us for your own to hang in your window).
Lobby Signs and Floor Mats:
Next up, we need to address the company's brand once you enter the building. Right when you open the door, you are met by a logo'd floor mat. The black fabric really makes the logo colors pop. Once you look up, you see the lobby sign: simple but effective. Using clear acrylic, it allows the bright yellow wall to show through without disrupting the logo on the sign. From the simple white logo on the front window, to the logo mat and lobby sign, you can already start to see brand identity. We added a second floor runner in the back hallway – there was already an old mat there, but we added a matching black logo mat to tie it all together.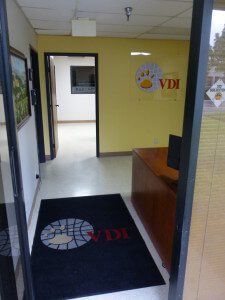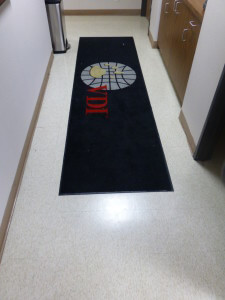 Window Graphics- Dusted Vinyl
VDI has two laboratories. The purpose of each lab was not very clear. Originally VDI had these cheap laminated paper banners tacked up in the back of each one. To make a better impression, we used a dusted vinyl to create window graphics that identify the lab with a touch of style. And hey, we've seen that globe and paw before (it's a common element!).
Translucent Vinyl and Privacy Window
From there, we had two more elements we needed to address. The back lab has a door with a window in it. They wanted to put something on the window, but didn't want to obscure the view. That's where the translucent vinyl comes in. A clear vinyl window graphic that is printed in color adds a wonderful brand element while still allowing visibility. The other side of that lab has sliding windows that allow people to see in and out of the lab. Besides the obvious "fish in a fish bowl" feeling, there is a level of security to prevent outsiders from seeing the high tech machines in the lab. To address this, we used the same dusted vinyl as before, just in a solid sheet to allow light to pass through, but create privacy.
At the end of the day, Shine On Signs was able to create a custom sign package that carried the VDI brand from the front of the building, all the way to the back. Common colors, elements, and design give this laboratory a new and improved feel that appeals to both their clients and their employees. Let us help you create a custom sign solution for your business with a complete brand package.