Outdoor banners are widely used as a marketing tool because of their low cost and high impact, but what if your business doesn't have the ability to hang a banner on the building, or wants to target a busy road? A banner stand is a perfect solution! Banner stands come in a variety of sizes to accommodate your banner needs. At Shine On Signs and Graphics we offer standard size banner frames at 3'x8', 3'x10', 4'x8′, and 4'x10', but we also have the ability to create any custom banner stand size you might need!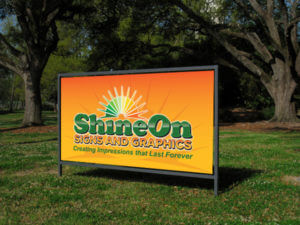 Banner frames are an excellent way to display your printed banner as they stretch the banner and eliminate any wrinkles that could show when the banner is hanging – giving your sign a professional look. Hanging a banner in the traditional way by using grommets can sometimes lead to wrinkles if the string cannot be pulled taut. Banners that are not hung correctly also tend to wear faster as the wind and elements take their toll. By using a banner frame, your sign is less likely to take wind damage, prolonging its life and use.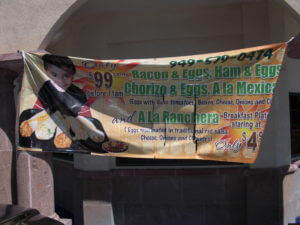 As seen in the picture on the left, the banner is wrinkled and the message is less noticeable. In this situation, a banner stand can be extremely beneficial and changes the look, and effectiveness, of the banner- because let's face it, your banner does no good if people can't read it!
Our banner stands are free standing and do not need to be planted into the ground or mounted to a wall. By using a banner stand, a high-resolution image can be placed on both sides for maximum exposure for your business or event. These frames are light-weight and can easily be moved and used time and time again. Outdoor stands work to provide a solid foundation to support your banner and ensure your business display stays out. If you are ready to see how banner stands can elevate your outdoor signage call us today for a free proposal!