The Charger Robotics Team from Kentridge High School competed in the annual FIRST Robotics Competition, or commonly called the FRC World Championship this past weekend. This year was their sixth year competing in the four-day robotics championship, where their team had to design, build and program a test robot.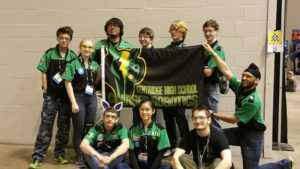 To promote their team as well as generate team spirit, the Charger Robotics Team contacted Shine On Signs and Graphics to create a customized flag that could be used for the event. The flag created is a double sided flag with two unique sides. One side lets people know which school they are representing along with their team and logo while the second side has bold yellow lettering which made sure everyone would remember their team name.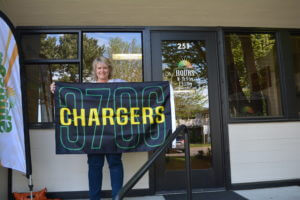 Using a flag for a special event can be a cost effective option to promote your team or company. Not only are they great for special events, but they work well for daily advertising indoors or outdoors. As you drive around town or attend outdoor events, you will notice this form of advertising is often used by a variety of businesses. Flags are cost effective and can easily be changed out during different promotional events. Choosing to hang a flag outside a business is a great way to grab the attention of your customer as they draw your customer's eyes to the movement created by the wind.
While flags are great for businesses looking to advertise they can make great personalized gifts as well. Realtors looking for a gift idea for buyers can easily create a personalized flag as a gift that can be hung outside of the new owners home. Sports enthusiasts will love having a personalized team flag with their name or favorite player's name displayed in their home or outside. If you are ready to let your message soar, contact us today for your personalized flag!