Boats have been getting graphics since humans first started exploring the water. Whether chiseled in wood, painted on, or by raising a flag, graphics are used to identify a boat and it's hailing port. We've come a long way since the early days, and now have more options for you as a boat owner. The most common, economical, and long lasting being premium vinyl graphics. Let's take a look on how to make sure your boat is getting the best graphics, done the right way.
Design: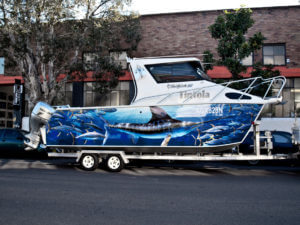 Designing your boat graphics seems pretty straight forward, however there are a number of things we need to consider that you don't encounter with other vinyl applications like vehicle wraps. The biggest challenge is designing for the curvature of the bow. We recommend avoiding text along the horizontal curve of the bow to avoid the "uphill" text look. Other potential areas of concern are putting text and graphics where ropes will touch or rub. Most designs are going to take into account the different curves, edges, and features of the boat- but since there isn't an extensive library of templates available, we usually start with getting a hand template of your boat to ensure the design will fit properly.
Materials: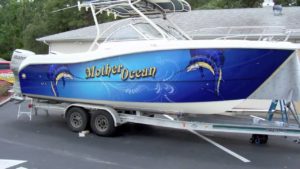 Great looking, long lasting boat graphics start with the right material. When it comes to vinyl, it's not all created equal. Luckily, we know just the right stuff to make sure your boat gets high quality, durable product. It starts with a cast vinyl with a high initial tack. This gives good conformability as well as adequate adhesion to your boat's gelcoat. Edge sealer is mandatory to keep water from getting under the vinyl and dislodging it- especially when travelling with speed. Shine On Signs uses high quality 3M or Avery vinyl for boat graphics, and we'll choose the best option to install on your boat.
Installation: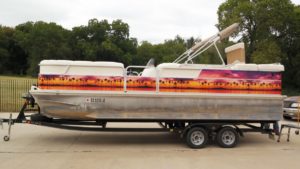 Many boat owners who are looking to change, update, or install boat graphics, think we can just stop by the marina and slap it on. Unfortunately, unless it's something on the deck, any graphics applied to the boat must be done out of the water. Once it's determined where the graphics will be installed, then it's down to business. It starts with proper cleaning. Washing the boat and removing waxy, oily residue on the boat is imperative to proper adhesion of the vinyl. Once cleaned, we try to strip the boat down as much as possible for full wraps: that is, rub-rails, trolling motors, and any other hardware that can be removed to facilitate easy installation. Then we apply the wrap in two pieces with only one seem on the nose. Fewer pieces = more durability. For simple graphics, we follow the same protocol. After the graphics or wrap is in place, seams and edges are sealed to prevent water from getting under the vinyl.
Are you ready to get started on your boat graphics? Whether its a new boat name, hailing port, or full wrap, we're here to help. You can also ask us about temporary graphics for events and promotions. We have a range of options to get your boat looking great!