At Shine on Signs and Graphics, each day brings a new exciting project. One of the great things about offering a diversity of products and services is the opportunity it creates to work with different business on their cool projects. Our most recent project with one of these great businesses was the installation of wall graphics for Dickey's Barbecue Pit.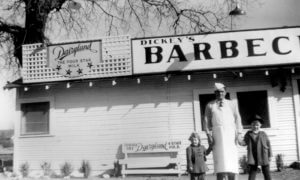 With their first location opening in Dallas, Texas in 1941, Dickey's Barbecue Pit has expanded across the US and now has multiple locations within Washington State. Their newest location will be in the scenic city of Gig Harbor [Let's Go!]. Dickey's Barbecue Pit is known for, as you might have guessed, their authentic slow-smoked barbecue. Their loyal guests and followers have allowed them to expand over the years and now have over 530 locations in 43 states.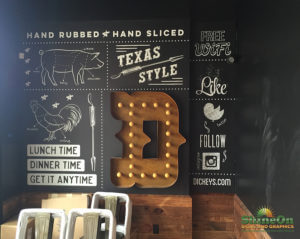 Each wall mural featured a faux chalk design which matches their rustic meets modern theme of each restaurant. This rustic look has become synonymous with the branding their customers have grown to recognize. Unlike traditional wall murals printed on vinyl, the wall murals installed in Dickey's Barbecue Pit were created using a printable canvas. This canvas is specially designed to be paste mounted to wall surfaces. Each section of wall mural was carefully applied using a method similar to placing traditional wallpaper.
Wall murals offer a unique and appealing way to add personality to a business. With our large format printer, we have the ability to print a mural as large as a whole wall, or simply take your company tagline or mission statement and bring it to life with wall letter graphics. Wall murals are not just art but also create a statement for your business. Allow your business to wow potential customers with your business brand or quote along your office wall.
Ready to brand your business with our eye-catching wall murals? Call us today for a custom proposal!