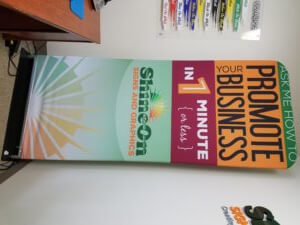 One of the newer trends over the last few years has been to move from vinyl signs to fabric or canvas signs. Originally a specialty item that only a few manufacturers could make, fabric signs were often expensive and difficult to come by, reserved for the select few companies with large budgets. All that has changed with improvements in technology. Now there are more reasons than ever to choose fabric for your business signs, and we have the top 5 for you!
Reason 1: Tough and Resilient
Fabric Signs can be used inside or outside. Able to withstand the variable weather in the Pacific Northwest or the arid south. Heavy rain, high winds, snow, sleet, and sun all take their toll, but fabric banners and signs quickly return to their normal state with no real signs of damage. They are long lasting and flexible, and can withstand the wear and tear of constant use.
Reason 2: Displaying and storing fabric signs is Easy-Peasy Lemon Squeezy!
Due to their lightweight and flexible material, fabric and canvas signs are easy to put up, and simple to store. Simply roll up the sign with the image facing outward, and store it in the protected tube. As long as it's dry, storage is that easy! Putting them up can be just as fast. Whether your sign is grommeted or hung by fabric loops (think signs along the road on the street poles), simply unroll the sign, and pop it up. Many fabric options even give a good amount of stretch to prevent wrinkling when you set it up!

Reason 3: No Glares, No Scratches, No Wrinkles
Unlike many vinyl banners and signs, fabric comes with a natural matte look. This prevents glare from sun and interior lights. Never worry about your message being missed by a blinding reflection! Another perk is there is less likely a chance of scratches and permanent wrinkles with fabric. If it gets dirty, most fabric signs can be machined washed or dry cleaned, just check with the Shine On team first and we'll get you all taken care of!
Reason 4: Super realistic photos!
When using photographs on your signs, fabric often gives a more realistic end product. At Shine On we use the highest quality fabrics and vinyls with top-of-the-line printing to recreate realistic images on your signs. By printing directly onto the fabric and not layering dots on top, we are able to create brilliant and sharp images that look great anywhere you decide to put them!
Reason 5: Affordable
As mentioned earlier, the days of fabric signs being a specialty item reserved for the big budget corporations is over. Because of their versatility, portability, and durability, investing in a fabric sign will pay off quickly, and with more sign manufacturers able to print and make these signs, they are now in reach of even the smallest businesses. Contact a Shine On team member to get a free proposal on putting fabric to work for your business. Whether in your trade show booth, promotional signs, temporary signs, or store signage, we have you covered!