"Timberland is a global leader in the design, manufacturing, and marketing of premium footwear, apparel and accessories for the outdoor lifestyle. Best known for the original yellow boot introduced in 1973, Timberland today outfits consumers from toe-to-head, with versatile collections that reflect the brand's rich heritage of craftsmanship, function and style."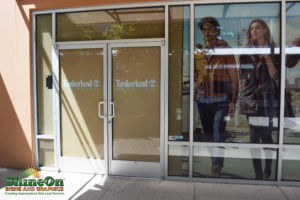 The Timberland brand has seen an exponential amount of growth since their first opening. Their products are now sold throughout the world with stores continuing to open. Their most recent store will be located at the Seattle Premium Outlet Mall located in Tulalip. While construction is under way the company chose to add temporary window graphics to let future customers know of their presence.
Each window graphic covers the full window length and width and was created using static cling material. The customer wanted to have a 2nd surface application, which means applying the graphics to the interior to face out. In order to do this, each graphic was printed using a reverse printing method with a white back applied to prevent people from being able to see inside the building.
These temporary graphics are perfect for covering up your next remodel or storefront openings as they can hide construction with an appealing design. Adding temporary graphics to a window can also work for a business to promote a short-term sale or can be changed out for each season. After the promotion or sale is over, these window graphics can be removed with relative ease and without damage to your windows.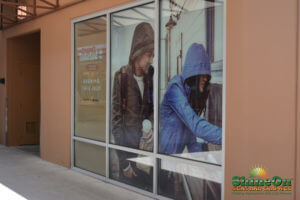 For businesses looking for a more permanent solution, we offer a variety of window graphics. We can provide solutions to too much sunlight shining in, or adding perforated window graphics to allow light in but let people still see out. With our large format printer, you can use our stunning prints for any marketing purposes you desire.
Shine On Signs and Graphics can help your company utilize your business windows to advertise with temporary or permanent window graphics. If you are ready to brand your business using your windows call us at 253-243-777 and we can create a custom proposal for you.