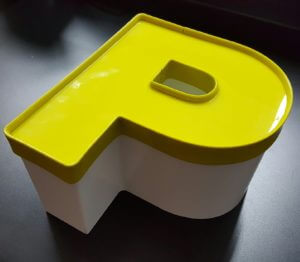 Every new business or franchise needs a new sign to let customers know where they are located. Choosing the right sign can be difficult with all the options available. If you are looking for a sign that brings awareness to your business 24/7 then an illuminated channel letter sign is the one for you. Illuminated channel letter signs work night and day to help customers easily find your store or business. We recently had the chance to work with the well-known TOGO's to install a new illuminated sign.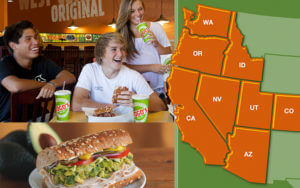 Togo's has been a top performing sandwich franchise since 1971 and recently expanding their locations to include Kent, WA. "Togo's has been the original West Coast sandwich franchise and has been serving big, made-to-order sandwiches stuffed with the freshest ingredients. Those sandwiches and our legendary guest service are the reasons Togo's has such a loyal following. We now have nearly 300 sandwich franchises open and under development throughout the West." If you have yet to try one of their delicious sandwiches, stop by the new Kent location for a flavorful experience and take a look at their new sign!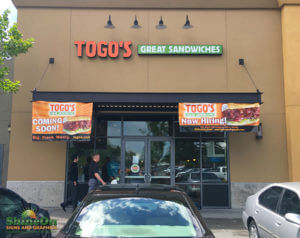 TOGO's new business sign was created using individual front and halo lit channel letters. A halo lit channel letter or commonly referred to as a back lit letter, creates a memorable and distinctive look. These signs are mounted in a way that creates a halo effect from the light behind each letter. Each letter is encased and also has its own individual lights placed within to make the illuminated letters stand out even more at night. Our channel letters are created using aluminum faces and returns. With our superior color matching abilities, we can color match your sign to your branding.
Do you have more questions about our channel letter signs? Are you ready to create lasting impressions with channel letter signs? Contact us today for your free sign package proposal!