At Shine on Signs and Graphics, we want to provide you with the best selection of signs for your business. We have continued to expand our services to allow optimal customization for any business signage needs. With our recent acquisition of a 2D router, we can engrave words or even pictures on a variety of substrates. Our ability to engrave in-house saves you time and money by placing an order directly with us for your custom sign engraving. Check out this short video on a similar router and how it can create unique signs.
Gravographc works to cut or engrave acrylic, aluminum composite, or even PVC. Acrylic is commonly used in signs as a lightweight and budget friendly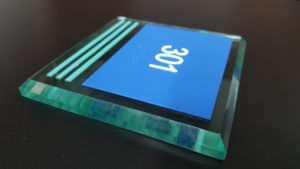 substrate. Our router can be used on acrylic to provide smooth, clean edges which gives the appearance of expensive cut glass. This sign was created using an acrylic named "Caribbean Collection" and has a beachy blue tint which looks as if it is made of glass.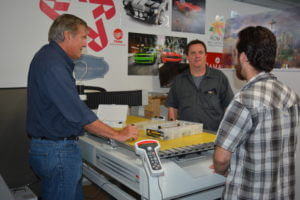 Not only does our router create engraving, but it also has the ability to create braille used on ADA signs. ADA or, American's with Disabilities Act Signs are wheelchair, handicap, exit and even bathroom signs which are required within your business. These signs must be up to code in order to avoid potential penalties from the Department of Justice. Much like the Caribbean Collection acrylic suite sign, lobby or office signs can maintain a unique look all while meeting the American's with Disabilities Act Sign requirements.
At Shine On Signs and Graphics, we specialize in customized signs for your business that create lasting impressions. If you have a special engraving project and would like to find out more about our engraved signs and other products offered, call or email us today and we can help create your custom sign.