A box truck, or commonly known as a cube truck or box van, is a truck with a cuboid-shaped cargo area used to store or transport items. With their large flat sides, these box trucks can be utilized as a moving advertisement for any business. While on the road or parked, a box truck with a wrap is a sure way to increase brand recognition.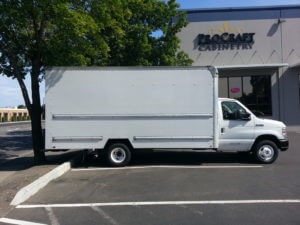 ProCraft Cabinetry of Kent invested in a custom partial box truck wrap to cover their plain white truck. With ProCraft Cabinetry quickly becoming a major player in the cabinet distribution industry, choosing to add a partial box truck wrap will increase the impressions their company makes as they use the company vehicle for installs or deliveries throughout town as the company continues to expand.
Our design team worked with the Procraft Cabinetry's images to create an appealing and professional design. The design installed on the vehicle features a large logo that is hard to miss as well as the company's contact information on each side of the vehicle. Adding the phone number and website makes it easy for customers to contact the company with questions about their products or services. The design also features photorealistic 3D renderings of the company's cabinetry products and continues around each side of the truck. Our skilled team was able to complete the partial wrap install within a day, saving the company time and money by getting their vehicle back to them quickly. To see part of our install process and the finished vehicle, watch the short video below!
The final product is an eye-catching wrap which can be parked outside for more exposure when not in use for deliveries. A vehicle wrap is not just a way to customize your company vehicle but is an important investment as it boosts your advertising target. If you would like to know more about our vehicle wraps, contact us today and we can find a wrap that fits your company needs.