We always enjoy working with our customers and appreciate when they return to us for new exciting jobs. We have previously worked with the Matt Griffin YMCA of SeaTac to install their outdoor banner frames and were asked to help with their new project. The YMCA has spacious windows on their building and were looking for a way to provide gym users with more privacy without sacrificing most of their natural light. To provide them with the best window graphics, we used perforated film.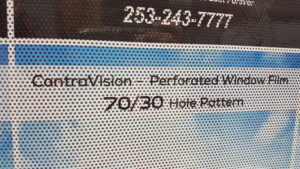 Perforated window graphics can be applied to business windows to create a big visual impact. Just like other vinyl, these can be printed to include any image, logo, or text, making the options for customization limitless. By utilizing windows as a space for advertising, businesses can maximize their exposure. A perforated window graphic is a vinyl graphic with small micro-punctures. These micro punctures allow one-way visibility through the graphics without blocking most of the natural light.
Perforated film comes in a variety of options and is based on the visibility the material allows. To create the YMCA's new window graphics, we used Contravision 70/30 perforated film. This film is a standard choice for windows on retail locations. It allows a strong image to be printed with good see-through vision. At Shine on Signs and Graphics, we also offer a 50/50 window perf which can be applied to vehicle windows. This type of perforated film is more transparent, which allows it to be used on car windows.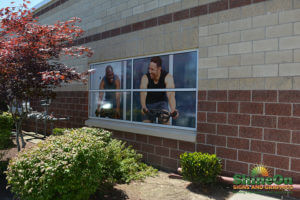 To create their new window graphics, our team printed the selected images directly onto the perforated film. The perforated film is then laminated with Clear Focus ClearLam. This laminate provides protection from UV fading and keeps the graphics looking vibrant. If you company would like to find out how window graphics can benefit your advertising contact us today and we can take your vision and make it a reality.