The Pacific Northwest is known for their love of craft beer and the new business Imbibe Bottle House and tap room works to support local craft breweries while offering the highest quality products to the local community.
Imbibe Bottle House and Tap Room is a new upscale bottle shop and taproom located in Maple Valley, WA. Their taproom offers 24 rotating taps including beer, cider, and wine. If that isn't enough selection, they even offer over 500 bottles of beer, wine, cider, sake and more! Here is a short video to learn more about their craft beers. With their new store opening, they needed for their new building and chose an illuminated channel letter sign.
So why choose a channel letter sign? A business' ability to stand out among a sea of other business signs and displays is what can set them apart from their competition and help bring in new customers. Channel letter signs work to set a business apart from their competitors by being visible in both the day and at night. As well as increasing your businesses visibility, they are energy efficient and allow you to be creative since these three-dimensional signs can be created in just about any font or shape. We also offer a variety of lighting styles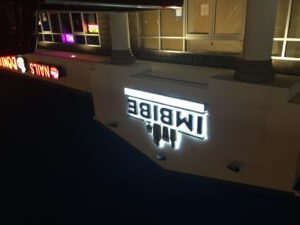 including front lit, open face, reverse lit which lets light shine from behind the letters.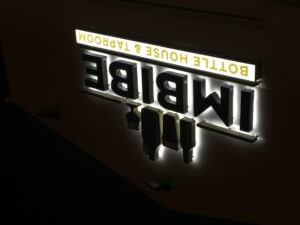 Each channel letter sign is custom designed to your company's needs. Our designers will create a layout on an image of your building or wall that allow you to visualize your new signs. We also work with each City to assure we are meeting city requirements and will handle obtaining any city permit that might be needed.
Are you ready to outshine your completion with a new illuminated channel letter sign? Contact us today and we can create a custom proposal for your business!