Business awnings can create a warm welcoming feel for customers of your business. In the Pacific Northwest, they can also be great for our rainy days or help shade your entry way during the summer. But the benefits of awnings also go beyond aesthetic appeal by creating a unique branding opportunity.
Champion Arms now has an updated awning which has an aesthetic appeal as well as markets their business. Champion Arms is a public shooting range located in Kent that also offers training courses, club memberships, competitions, and even a retail store.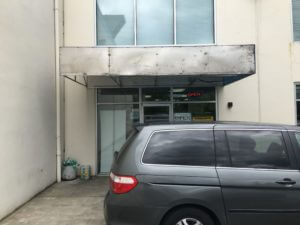 To create their updated awning, we visited their location to complete a site survey where we measure and assessed the awning. We provide site surveys at no charge as they help us determine the best materials to use for your custom sign. The awning outside of Campion Arms is unique in that is constructed of both aluminum and canvas, where most awnings are made of all canvas or all metal. After reviewing the awning and determining the materials that would be used, our designers created an awning wrap that would be applied directly onto the aluminum face. Similar to a car wrap, a premium vinyl and over laminate were used to wrap the face of the awning.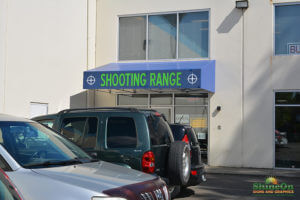 By having a well-designed awning, a business can include their logo, colors, or even contact information and improve their marketing efforts. These small touches can help your company stand out by being memorable and can also make it easier for customers to find your location. Learn More about awnings.
Awnings create a memorable experience and also add an appealing look for your business. If your company has an awning that you are interested in utilizing for your marketing, our experienced designers can help find the best design that will increase your business exposure and help bring in more foot traffic. Contact us today to start your custom proposal.