Summer is in full swing and with it brings the boating season. But before you take your boat out or plan on purchasing one, it's important to understand and know the state and federal requirements for vessel markings. There are two types of registration available for recreational vessels: State-issued certificate of number and federally documented with the U.S. Coast Guard.
State-issued Certificate
According to the Official Boating Handbook of the Washington State Parks and Department of Licensing, vessel owners must display their registration numbers and decals on the vessel's bow as shown below.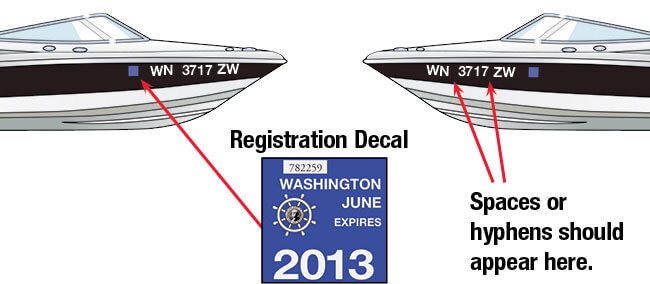 Image: Official Boating Handbook of the Washington State Parks
Numbers must be applied as a decal, painted or otherwise affixed to the forward half of each side of the vessel, placed to be clearly visible.
Numbers must read from left to right on both sides of the bow.
Numbers must be in at least three-inch-high, bold, vertical, BLOCKcharacters.
The color of the numbers must contrast sharply with the background.
Letters must be separated from the numbers by a space or hyphen: WN 3717 ZW or WN-3717-ZW.
No other numbers may be displayed on either side of the bow.
Current decals only must be affixed on each side of the bow, toward the stern of the registration number and in line with the number.
Federally Documented
According to Federal requirements, "The marking requirements for a documented recreational vessel state 'together in one place on the hull'. Many recreational vessels will place the vessel name and hailing port on the stern, and vessel name on both sides of the bow, which is required for a commercial vessel. Although not required for a recreational vessel, this is an acceptable option"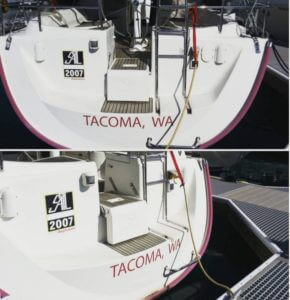 To be in compliance with federal documentation requirements, the vessel hull must:
Have the name and hailing port of the vessel together in one place on the hull (usually on the stern)
Be in letters not less than 4 inches in height
Be clearly readable
"Interior Display (Recreational and Commercial) In addition, the vessel must have the official number permanently affixed in block-type Arabic numerals of not less than 3 inches in height, preceded by the letters "NO ." on some clearly visible interior integral structural part of the vessel . Arabic numerals are the most common symbolic representation of numbers in the world. Permanently affixed means that the numbers must be affixed to the vessel so that alteration, removal, or replacement would be obvious. Numbers can be painted, carved, or welded."

Image: United States Coast Guard Boating Safety Division
At Shine On Signs and Graphics we can help you follow these boating rules and regulations with custom boat graphics. Call us today to have a free proposal created for your boat lettering and registration.