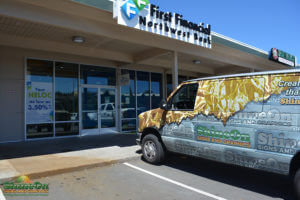 At Shine On Signs and Graphics we love building relationships with other businesses through repeat orders. It gives us a chance to work with another company and get to know their business and employees better. Shine On Signs and Graphics has had the opportunity to install window graphics for each First Financial Northwest Bank locations! "First Financial Northwest Bank has been a fixture in this community since 1923. Residents and businesses alike have relied on us, not just as a bank, but also as a promoter and sponsor of scores of non-profit, civic and social groups."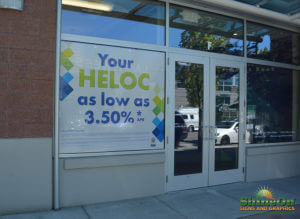 With different locations throughout the Seattle area, each store had window graphics designed, printed, and installed in a way that would make the largest impact while keeping a professional look. As can be seen in the photos for the First Financial Northwest Bank windows, the Mill Creek and Edmonds branch opted for a white window graphic while The Landing in Renton location opted for a blue graphic similar in style. Do you have a design but want to change the colors around? We have designers on staff that can use color matching tools to change the colors of your design to fit your marketing needs.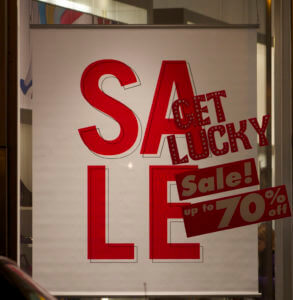 Window graphics work great to advertise a sale or special deal your business is promoting while providing privacy for people inside. They can be easily installed and removed when your sale is over making them a no fuss and easy to use marketing tool. With our die-cutting machine, we can create individual letters or shapes, which creates a standout look that will attract customers. If you are interested in the benefits of using window graphics call or email us and we can schedule a time to meet at your business. Our knowledgeable staff will provide you with samples as well as ideas on maximizing you marketing by utilizing your window space.