A well-designed lobby sign is important for any business who works directly with customers at their office or business location. When a customer first walks into your business their eyes will naturally be drawn to your lobby sign with your company branding. Your reception sign may be the first thing visitors notice when entering your building. An eye-catching lobby sign is your chance to create a lasting first impression with new customers and can show the quality of your organization. At Shine on Signs and Graphics, we can help you design a custom lobby sign built to compliment your business style and décor.
The company Crowne Corr Inc. in Bellevue was looking to add a lobby sign that would establish a lasting impression with a professional look. We worked with their team to create a custom sign that has a sleek and modern look using a variety of materials. We offer signs made from metal, foam, vinyl, acrylics, and wood and more. Our designers helped narrow down materials that would work well together and have a cohesive aesthetic. The finalized sign was created using brushed max metal in silver, a clear acrylic with a dusted vinyl adhesive, and custom dimensional letter to bring together their vision. To see how we installed this unique sign, check out the images below!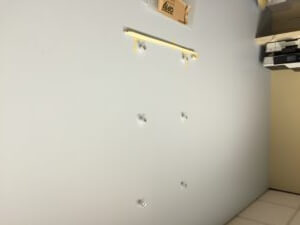 Before we begin an installation we measure and place a marker or template on the wall (we follow the saying "measure twice, cut once"). This makes it easy for us to line up the pieces and assure accuracy.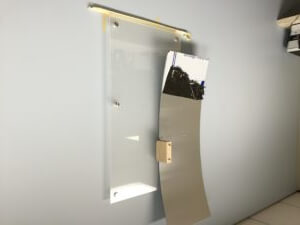 The acrylic with dusted laminate was then set into place as it is the back piece of the lobby sign. We then attached the brushed max metal and the center piece which would hold the Crown Corr Inc. piece.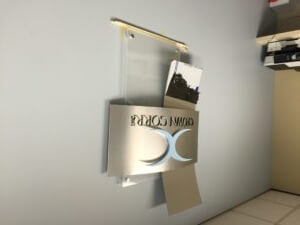 Once all of the main elements were in place we carefully removed the protective cover from the max metal to prevent damage during transportation. Once removed the final lobby sign was revealed and fits perfectly with the decor of the office. If you are ready to step up your reception or entry way with an eye-catching lobby sign call or email us today and we can put together a free quote!