One way to uphold standards and rules for your gym, fitness club facility or sports hall are with the use of signs. Fitness center signs also say a lot about your center's image, regulations, operations, policies and how welcoming and accommodating your center is perceived. Shine On Signs works with fitness center owners, sports clubs, gyms, and spas facility owners to build a variety of signage products that can create user-friendly, celebrated functionality of facilities use, and adds aesthetic attributes to your fitness center. Our recent project with the YMCA of Auburn demonstrated our diversity of products that can be used in a fitness center.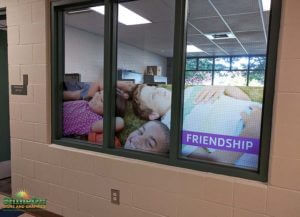 Window Graphics– The YCMA promotes healthy and active lifestyles for the community. Their blank office windows became the perfect opportunity to showcase this through lifestyle window graphics. Lifestyle images with inspirational working and fun colors were printed and reverse mounted on the office windows.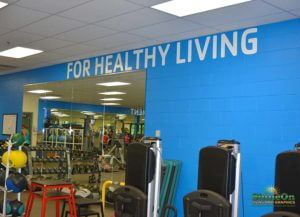 Etiquette Signs– From the cardio area to locker rooms, etiquette signs uphold the rules of your health club. A total of 7 etiquette signs was produced using PVC and were placed throughout the fitness center and locker rooms.
Wall Graphics– Wall graphics can create a personalized look and set the atmosphere for your location. The YMCA is known for their colorful and positive branding. The wall graphics chosen reflect their theme and will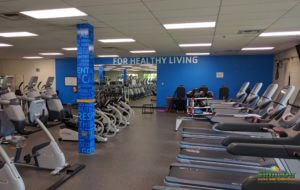 encourage and motivate gym members while they are using the facility.
Gym Pillars– In additional to the new signs and graphics we installed, we also had the chance to wrap the gym's pillars. Bright blue motivational and inspirational words now cover the once bare pillars and create an aesthetic look.
If you have a business in the fitness and wellness industry let us help you locate signs that will enhance your member's experience while marketing your business! Call us today at 253-243-777 or email us to learn more about our fitness center signs. For more information on our fitness center signs, check out the short video below!