Attend any trade show or event and you will be sure to see a multitude of promotional products in each booth. These items are common among trade show attendees and business to use as thank you gifts. But how effective are these promotional products at advertising your business?
Promotional products are the gifts that keep on giving and advertising for your business. According to a survey conducted on the use of promotional items, it was found "58% of respondents keep a promotional product anywhere from one year to more than four years." Up to 4 years! That is 4 years your company could be creating impressions as your product or gift is being used. This means "even if the recipient uses the item only once per week, that's a minimum of 52 impressions made over the course of a year with the possibility of more than 208 during a five-year window."
For businesses who attend trade shows these items can be a conversation starter and draw people to your booth. With our large variety of items, your business will be sure to find a product that matches your needs. From holiday gifts to thank you for your business gifts, we have the perfect item for your social event or interaction.
For a full list of our items offered, view our website! Our extensive list includes clothing, drinkware, athletic apparel, and more. Here you will find item descriptions and prices along with information for branding and personalization. Our website allows you to upload you to easily upload your logo or contact information and create virtual samples!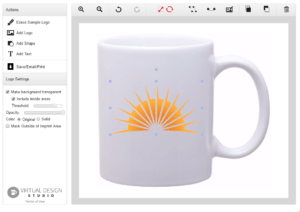 Are you ready to start advertising your business through promotional products? Call us at 253-243-7777 or request a quote through our promotional product website and one of our associates will help you find a product to create a lasting impression.
Source: https://www.ppai.org/events/promotional-products-work-week/Documents/PPW!%20Fact%20Book%20-%202013.pdf