CMG Financial is a well-capitalized, privately held mortgage-banking firm located in Kent, WA. The company had a recent branding update and contacted us to replace their signs with their new design. Through a consultation with CMG Financial, we assessed the company's individual signage needs and determined the best signs and materials for their branding and advertising desires. Our experienced team worked with their staff to put together a customer sign package that included a large outdoor sign, a-board, lobby sign, wall directory sign, and a directory nameplate. Each one of these signs is vital to the business and serve a wayfinding purpose or welcome customers with their new branding.
For CMG Financials' outdoor sign, we color matched their new corporate branding to create a large max-metal sign. The final sign is 8 feet wide and 4 feet tall! This exceptional sign uses bright colors and dimensional letters to create a distinctive and striking sign customers will be sure to notice.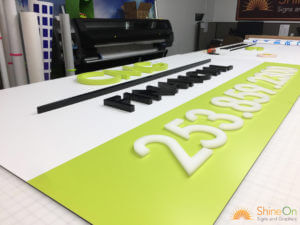 Directories are common in business parks and often are a missed opportunity to make your branding stand out. By adding CMG Financials' branding to the business directory sign, we constructed a sign that allows them to stand out among the other businesses in the directory and has a professional look.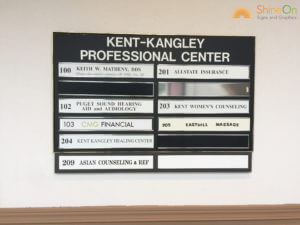 While many companies opt for window or door graphics to let their clients know where they are located, we also recommend including a wayfinding sign near your door. The PVC wayfinding sign we installed outside the office door stands out enough for people walking through the hallway to quickly locate their office.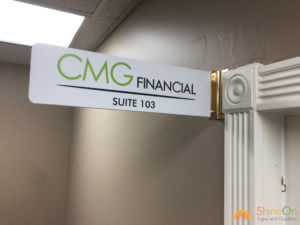 As customers and clients enter the office they are greeted with a lobby sign also incorporating their company branding. Lobby signs are the perfect way to establish your brand and welcome customers in a professional way.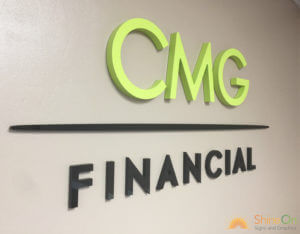 If your business is going through a rebranding and is in need of new signs, call us at 253-243-7777, send an email to info@pugetsoundsigns.com, or fill out our quick form, and one of our representatives will be in touch with you about your sign project.