Love the looked of etched glass but not the price? Frosted and Dusted vinyl can be applied to glass at a fraction of the cost and still provide an upscale look for your business windows. When it comes to the etched glass look, there are two main options we like to offer our clients, frosted and dusted vinyl. While both are appealing choices, there are a couple minor differences. Frosted vinyl has flecks or glitter within the vinyl that gives it a sparkling appearance. Dusted vinyl has a matte etched glass look without the flecks of glitter.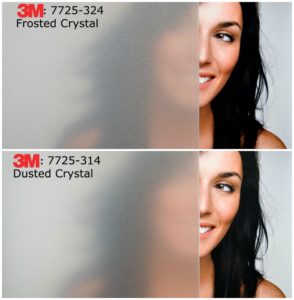 Both options can be used to provide privacy for office windows or add attractive window art decor. Depending on your desired look, we can work with you to help you decide which choice will look best. Both of these vinyls can be die-cut to include a design or company logo and also have the option to be printed on for further customization. Our window graphics can be applied to both indoor and outdoor settings and are great for shop windows, room dividers, and glass doors.
---
Take a look at some of our previous frosted and dusted vinyl projects!
Office Windows– Dusted vinyl was chosen for the windows as the office was looking for a professional and more conservative look. Each name was die-cut from the graphic.
2. Fitness Center Windows– Dusted vinyl was also chosen for this fitness and wellness center. We printed directly onto the vinyl to create add the company logo and branding.
3. Yoga Studio– The Yoga studio was looking to add privacy to the windows without blocking light and chose Frosted Vinyl with their logo die-cut in the center. The window before was blocked and didn't let any light through.
If your business is looking to add frosted of dusted vinyl to your windows, let us know! Call us at 253-243-7777, email us at info@pugetsoundsigns.com or fill out our easy to use form!