You might be familiar with vehicle graphics and wraps but did you know a survey from Cox Communications/Eagle Research showed 48% of people agreed vehicle graphics are one the most unique advertising medium available? Vehicle wraps were ranked highly for positive associations with customers and came in second to being the most memorable ads behind television.
These statistics show car wraps are not just enjoyable to look at, but they also confirm the effectiveness of using a vehicle for marketing. Graphics and wraps attract the attention of people and make permanent impressions. Knowing these benefits of wrapping your vehicle leaves you at the next step, deciding on a partial or full wrap and choosing a design.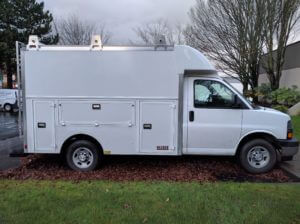 When Elih Plumbing and Remodeling LLC in Tacoma contacted us to add branding to their vehicle we worked with them to decide on a design and budget that would make the most impact for their business. Using die cut graphics to apply their company name, logo, and phone number was a cost-effective solution for the businesses' marketing and advertising needs. Our team got to work printing and installing the new graphics which are a fraction of the price of a full wrap. Partial wraps and decals work well for companies just starting out. A great benefit to starting with just the basic branding is that it allows the owners to see what their company vehicles will look like with their information. If a customer decides they like the branding or want to expand on the design, we can easily work with them to add additional graphics to the existing branding down the road.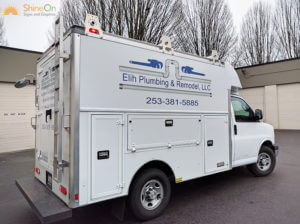 If your company is interested in decals or how a partial wrap can increase your business sales, call us at 253.243.7777 email us at info@pugetsoundsigns.com, or fill out our quick information request form and one of our customer service representatives will help you.