Grand openings are an exciting time for every business. When we were contacted by 9Round Fitness to help create grand opening signs for their newest location in Renton, we were more than happy to help.
From their website– 9Round is a specialized fitness center for people who want a unique, fun, and proven workout that guarantees results. 9Round offers a kickboxing themed fitness program that incorporates a functional, interval, cardiovascular, and circuit training regimens. The programs consist of a proprietary system of nine challenging workout stations developed by a World Champion Kickboxer.
To promote their grand opening, 9Round Fitness was looking to find the best way to have a photo backdrop. After the event, the client was looking for a way to keep the sign up without taking up too much valuable space at the fitness center. We created a solution by utilizing two retractable banners with a logo pattern. The two banners could be placed together for photos and separated after the event and placed in different locations, unlike a large step and repeat. An added bonus of using retractable banners is the option for changing the graphics. As the new fitness center holds events throughout the year, they can easily reorder new graphics and promote their newest product or message.
Are you a new business owner needing help with signs? As new business owners, we know that your to-do list is extremely long. Let us take the stress out of ordering and designing your signs. We produce a large variety of signs and trade show materials that have high visibility and create a positive impact for the product or service they advertise. A properly promoted logo or message can increase sales both now and in the future for your new business.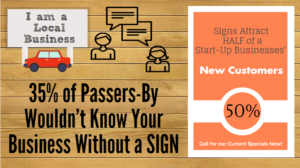 Contact us today to begin a custom sign package for your business at 253.243.7777, email us at info@pugetsoundsigns.com or fill out our easy to use form and one of our knowledgeable staff will contact you today.