Are you ready to start planning the exterior signs for your building, or considering updating the pre-existing ones? Are you limited on budget or availability of electrical hookups? Well then, non-illuminated signs can be the right option for you. There are many styles of exterior building signs that will satisfy almost any business and any number of different purposes. Let's explore some of the different types of non-illuminated signs you may want to incorporate into your sign plan.
Large Format Signs
One of the primary purposes for exterior signs is to identify the company housed within the building. Letting clients and customers know where to find you, create brand recognition, and capturing the attention of potential new clients is an important function of large format signage. These signs include the name of the company and logos and are typically the most prominent of all exterior building signs.
Dimensional Letters:
Dimensional letter signs are a great compromise between flat wall signs and illuminated channel letters or cabinet signs. They provide a more upscale look and create depth and dimension to your sign which literally stands out to your customers and clients. Typically made from PVC, Acrylic, or Cut Metal, they can be designed with various colors, textures, sizes, and thickness to give a custom feel that fits your space and your brand. Once manufactured, they are installed directly on the face of the building. They are durable and long-lasting and frequently used in retail stores.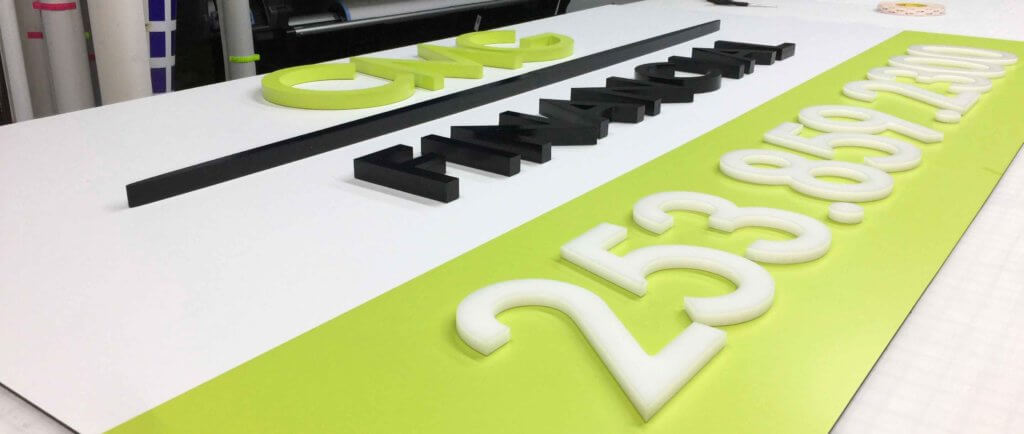 Aluminum Pan Sign (Panface):
Aluminum pan signs, also known as panface or pan panels, are a type of sign constructed from flat aluminum. These can be any shape or size with slight variations in thickness, and come in a number of different finishes. Typically these signs are used for business directories, business logos, or as the large company name. Custom shapes and designs all your aluminum pan sign to stand out. Placing a number of panels next to each other can greatly increase the size of your pan sign to improve visibility and brand awareness.
Vinyl Letters:
One more step down from an aluminum pan sign is vinyl letters. These are a budget friendly option, especially for temporary building signs. Applied directly to the face of the building, vinyl can be printed and cut to any size and color, allowing us to customize your sign.
Smaller format signs
Other than the large attention grabbing signs, there are a number of exterior building signs that are required to help your visitors identify, find, and answer questions. These include directories, wayfinding, advertising boards, and many others. Let's take a look at some of the smaller non-illuminated sign types to consider for your building. (Don't forget, because of their customization, any of the large format signs above can be made to fit smaller applications).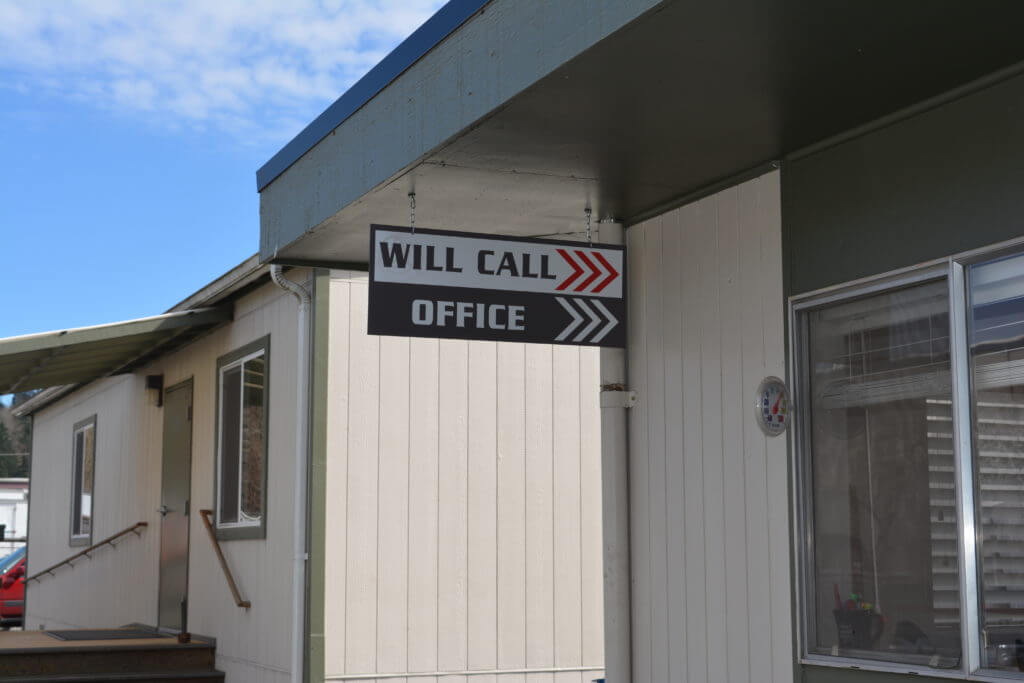 Blade Signs/ Protruding Signs/ Perpendicular Signs:
Blade signs, a type of protruding sign, are a common and effective sign type for business limited on space. Because they protrude from the wall they are attached, the literally "stick-out" to clients, grabbing the attention of nearby people. Small blade signs can be placed by entrances or at corners to help direct people in the right direction- that is, into your building. We see these frequently in strip malls.
Blade signs can be made from a number of materials with the most common being PVC, metal, or wood. Depending on the face material, the sign design is either carved out (wood), cut out (metal), or applied with printed vinyl graphics. Mounting can be customized to fit the type of business you have or the space that is available to you. Although typically non-illuminated, we can add directional lighting to shine on the sign and light it up at night.
Directory Signs/ Wayfinding Signs:
A very important job of exterior building signs is to point people in the right direction and provide them important information. That's where wall mounted directory signs and wayfinding signs come in. There are a couple of ways to approach these signs. The most common is with aluminum pan signs, acrylic or wood carved signs attached to a wall. Some directory panels offer changeable plates for adjusting copy. We see these frequently for business parks and office buildings that have multiple entrances.
Directory signs and wayfinding signs have a wide range of formats to fit many applications and allows the public to quickly and efficiently find the business.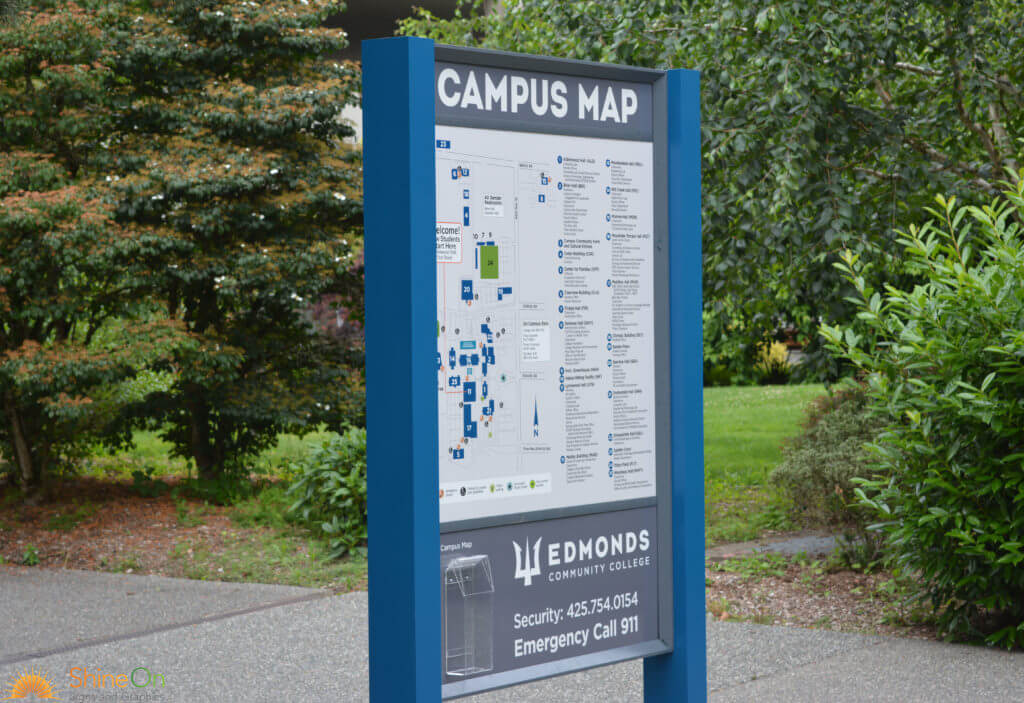 Readerboard Signs:
Another type of small exterior sign is the readerboard. Although these are typically seen in large format at gas stations and convenience marts, smaller sizes are often used for places like churches and schools to provide information to the members. Reader boards are often mounted directly to the wall in a cabinet with a glass case that closes and locks. Inside the case can be made with a variety of message media from corkboard to changeable sign letters.
Readerboard signs are great because of their versatility and changeability. Your message can be updated as frequently as you need without the expense of a new sign.
ADA Signs:
No building sign plan is complete without the appropriate ADA signage in place. These signs follow the Americans with Disabilities Act requirements and are used to identify accessible building entrances or give directional guidance for accessibility. These are critical signs that should be a forethought of every sign plan.
Whether you elect to choose non-illuminated, illuminated, or a combination of both, creating a sign plan for the exterior of your building is important. Following the city codes, property management requirements, and staying ADA compliant are all important elements that need to be considered. After that, maximizing your signs' impact should be number one. Let the team at Shine On help you create a sign plan that will make the most of your building's exterior. We specialize in full project management, whether it's creating, manufacturing and designing a single exterior building sign, or a full interior/exterior signage solution, we are here to help.