One of the greatest ways to get in the mood for the fall season is to brew a cup of spiced cider, grab some carmel corn, kick back, and watch some of your favorite spooky television shows and films. Signs are a big part of life, so they're bound to make an appearance in some of our favorite films and TV shows. While the ominous slow pan in on the flickering illuminated signs and sharp chords normally point to disaster, some of these recognizable Halloween signs are just too darn cute to be scary!
Let's take a look at some of these iconic signs.
1. Corpse Bride
After rehearsing his vows in the forest and placing his ring on a tree root, Victor finds he's placed the ring on a dead woman's finger. He faints, then wakes in the Land of the Dead. Emily, his corpse bride, has taken him to a lounge called the Ball & Socket, indicated by this attached sign. This is where he learns his corpse bride's past and her intention to be with him forever, despite his love for Victoria in the Land of the Living.
2. Friday the 13th
The hanging sign welcoming campers and counselors to Camp Crystal Lake later marks a story of bloodshed. Following these horrific murders, the camp was called "Camp Blood." Especially for the superstitious, this cult classic ensures every Friday the 13th to be wary; things could go very, very wrong.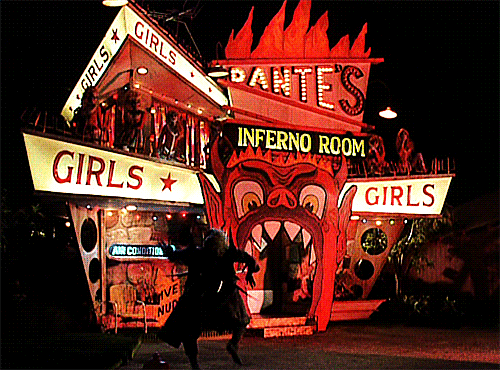 3. Beetlejuice
Two recently deceased souls summon Betelgeuse to help them scare away the family that moved into their house. They decide to distract and trick him to get him out of the picture upon deciding his scare tactics were too dangerous. Made to distract Betelgeuse, Dante's Inferno Room is a strange strip club full of devil dancers. This wild building hosts light boxes and illuminated channel letters to let him know there are lots of "Girls" and it's "air conditioned."
4. Ghostbusters
Man, do we love vehicle graphics! The iconic Ecto-1 or Ectomobile, which is the official vehicle for transporting our parapsychology professors for their ghost removal services, sports a Ghostbusters decal on the sides of the two front doors. To promote the film, the original Ecto-1 was driven around New York, but the sight of this well-known car caused numerous car accidents!
5. Psycho
Celebrating 55 years of success, Alfred Hitchcock's most successful film was Psycho, earning him his 5th and final Academy Award nomination for Best Director. He actually financed the film himself after Paramount continuously showed cold feet about the project. This creepy neon sign is recognizable everywhere as a dark reminder of the events that occurred there. There have been a few spinoff projects, including a comedy-horror film "Bates Motel" and a modern psychological horror TV series of the same name.
6. Scary Movie 
At the beginning of this horror satire, 18-year-old Drew receives a menacing phone call, then finds Ghostface in her house. She's chased out by the armed figure and stabbed in the breast, removing her silicone implant. During the chase, Drew is faced with two traffic post signs in front of the pool, choosing to follow the one reading, "death." She's then murdered by Ghostface. How's that for foreshadowing?
7. Nightmare Before Christmas
In this Tim Burton classic, Halloween Town is one of the seven holiday worlds and the residing town of Jack Skellington, the Pumpkin King. Jack is seen in the opening song, "This is Halloween," embodying a scarecrow with a Halloween Town wood post sign upon his back.
8. The Addams Family
Thing T. Thing is a hand that fetches the mail, lights Gomez's cigars, and flips records on the photograph. In the television production, a mailman reacts to the panel fence sign adorning the Addams family mansion with the words, "Beware of the Thing."
9. IT
Stephen King's novel was recreated in the form of a TV miniseries, and more recently had a spotlight on the silver screen. As we hear of the high rate of missing persons in Derry, we see an eerie sign from the police department warning, "Remember the curfew, 7 P.M."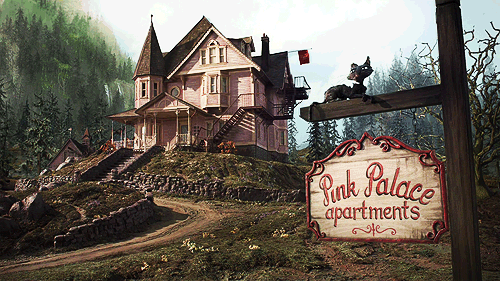 10. Coraline
The Pink Palace Apartments hanging sign introduces Coraline's ordinary world. She wishes for a more interesting life, and her wish is granted after exploring through a tiny door in her house and falling into the clutches of her sinister other-parents.
11. Amityville Horror
This is a dark one. Based on a true story, the film tells the story of Ronald DeFeo Jr. who shot and killed six of his family members at 112 Ocean Avenue. The real address was later changed to 108 Ocean Avenue to keep visitors away. The house kept going up for sale (hence the real estate sign) and has been occupied 5 different times since the events of this story.
12. Halloweentown
Two kids, Marnie and Dylan, beg to go to a Halloween party, but their mother, Gwen, refuses to let them attend. Their grandmother Aggie shows up to encourage their Halloween shennanigans and ask Gwen for help–people are disappearing in Halloweentown! Gwen refuses. The kids then follow Aggie to this bus stop (with a cute spiderweb pole sign!) that shouldn't exist. The bus arrives, the kids sneak on, and before you know it…they're landing in Halloweentown.
And we'll conclude with an easy one…
13. A Nightmare on Elm Street
In this classic slasher by Wes Craven where Freddy Kreuger, a burn victim and midnight mangler, preys on and kills teenagers in their dreams, which in turn kills them in reality. The street sign is tattered, giving viewers a sense of foreboding. "Every town has an Elm Street" is a popular line from the movie, but it's also the truth. No, really. Elm St signs are stolen so consistently, Robert Englund autographs another one at least once a week.
What are some of your favorite spooky signs? Let us know on Facebook!