The US Small Business Administration says that using light to attract attention will increase a store's volume by 15-150%. – "Electronic Message Centres (EMCs)" – The U.S. Small Business Administration and the Signage Foundation for Communication Excellence, Inc.
A common thought about illuminated monument signs is, "We are closed at night. Why would we need people to see us if we aren't open?"
Think of how many illuminated business signs catch your eye when you are driving around in the evenings. In comparison, how aware of those businesses are you during the daytime? With 30% of street traffic occurring at night, you can't afford to miss out on being seen.
Even if your office is closed in the evenings and your target customers can't enter your building upon viewing your monument sign, your existence and location has been brought to their attention. By adding light to your monument, your business will stand out and reach target customers you may have missed earlier in the day.
Displaying a non-illuminated sign during inclement weather may give potential customers the impression that your business is closed for the day, or worse—that you are out of business. The same holds true for rush hour in the overcast winter months. In these conditions, using light to draw attention to your business is just as important as using light after dusk.
There are endless possibilities when it comes to lighting your sign. There's neon, LED neon strips, flood lights, LED message boards, halo lighting, LED dimensional letters, and more.
Here are 6 ways to illuminate your monument sign:
External
Flood Lights
Flood lights are an external light source placed in the ground in front of your monument and pointed at your sign. With ground mounted flood lights, it is recommended to set the lights back at a distance equal to ¾ of your sign height, and spaced about twice the setback distance apart. The flood light is aimed about 2/3 up the sign for best coverage. The lighting can often be adjusted to produce the best possible appearance.
LED Strips
LED strips are essentially many LED lights strung together to easily wrap around a shape or apply behind a dimensional letter. Variations of the LED strips or LED modules are often applied behind dimensional letters to create a halo effect, to illuminate the letters themselves, or both.
Internal
LED Neon Ropes
Neon, though a stunning and classic form of illumination, can be expensive in comparison to other forms of lighting. Luckily, there are LED neon ropes made of flexible, opaque PVC that can mimic the uniform brightness of traditional glass neon fixtures for a fraction of the price. Spice up your monument sign with color-changing LED neon ropes.
LED Message Center
LED stands for light-emitting-diode. LED message boards are made with lights in many rows and columns. These boards can be programmed with multiple different messages and unique formats that display on your screen and change with customized intervals. LED boards can be controlled from the point of sale system inside. Message centers are helpful to communicate frequent changes in new product, specials, or events, without the hassle of using manual labor to change letters on your monument sign. You can tailor your messages to the types of people typically passing your business at specific times, and ultra-bright LED lights compete with the sunlight, so your messages will be seen all day long and into the night.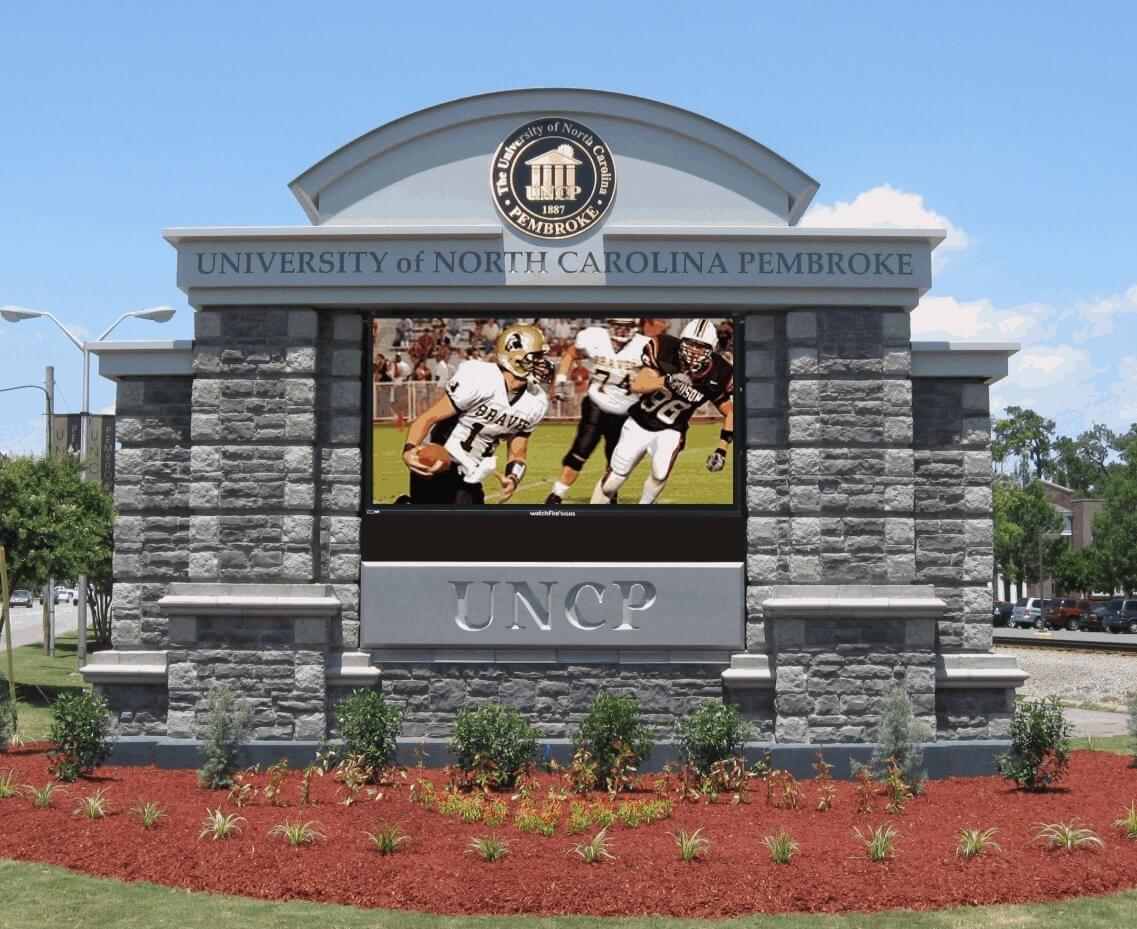 Digital LCD Message Center
LCD stands for liquid crystal display. An image is created on an LCD screen by passing light through tiny liquid crystals in the message board, similar to what is used for televisions and computer monitors. LCD boards use the same technology as what is used to create televisions. LCD has as higher resolution than LED and can be viewed from a closer range than LED boards.
LED-Lit Dimensional Letters
Dimensional letters on a monument sign can be illuminated with LED modules placed inside can be forward facing or rear facing. The amount of light that penetrates the letters depending on the opacity and width of the letters. The LED lights can also be pointed to the rear of the letters, creating a warm and attention-grabbing halo effect.
Looking to get moving on your monument sign project? Contact us for a free quote HERE.
Check out more of our signs HERE.