The Organic Coup is the very first USDA certified organic fast food restaurant in the nation with a flourishing chain of locations in the state of California. Offering an array of nourishing salad and sandwich options to busy customers who don't want to sacrifice health, it's no surprise The Organic Coup is expanding…and fast. Shine On Signs was thrilled with the opportunity to participate in the launch of the first Organic Coup location in Washington State!
For the new location in Bellevue, we created a striking sign package of interior and exterior signs including dimensional letters, menu boards, soda machine graphics, window and wall graphics, an acrylic standoff sign, blade signs, and an illuminated sandwich sign. Each of these signs is vital in telling the company story, leading the customer through an experience, and directing them to their destination—a delicious meal at a spunky eatery.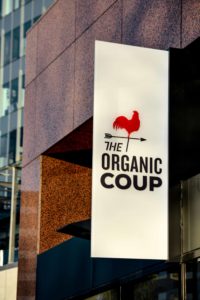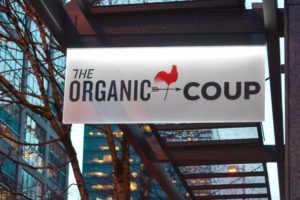 Outside of the building, there are two outdoor acrylic blade signs created with 3M vinyl print-cut graphics. These graphics depict the company's logo—a rooster on a weather vane—with the arrow subtly directing customers into the building. These acrylic blades are illuminated at night with LED lights to seize the attention of motorists and pedestrians passing by.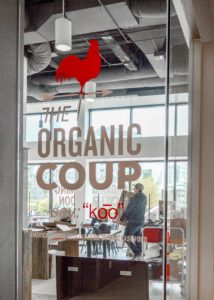 Upon entering the main lobby of the building, customers are greeted with clear glass panes that declare The Organic Coup's entrance with 3M vinyl graphics, consistent with the outdoor blade signs. Strong visuals on the restaurant's windows guarantee new customers will have a sense of the company's character, even before stepping foot into the restaurant!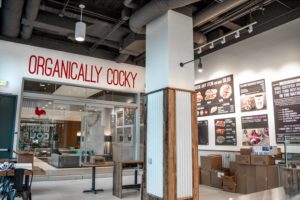 Once through the entrance doors, customers are welcomed with vivid red 3M RTA vinyl wall graphics proclaiming sassy announcements. These audacious letters create an instantly youthful, lively environment that corresponds with other bold graphics around the restaurant. Customers know they can relax and have fun at this establishment!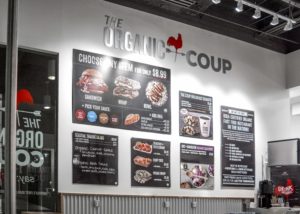 Above the menu boards are ¼ inch clear acrylic dimensional letters with horizontally brushed aluminum faces and sides to match, giving The Organic Coup's name a luxurious appearance that commands center stage. The rooster shape on the logo was painted a red hue to match the rest of the logos in this sign package, and to maintain consistency and recognizability within the company's branding.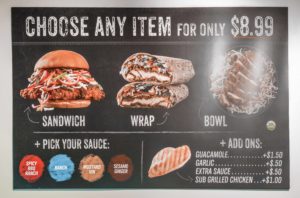 Menu board graphics were printed on 3M vinyl, adhered to 1/8" thick PVC, and mounted with French cleats. Three boards are protected with matte overlaminate, and two boards were laminated on 3M gloss. The gloss laminate works well with dry erase markers, which is perfect for a business with fluctuating menu items or special offers!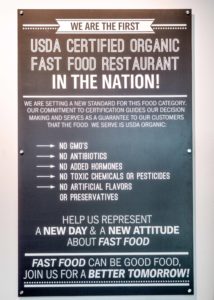 Next to the menu boards is an acrylic standoff information sign, created with translucent white vinyl on ¼ inch clear acrylic and mounted with 1-inch standoffs. The standoffs differentiate the information board from the menus and boast a distinct, high-end appearance for the restaurant's most important message: every ingredient is organic!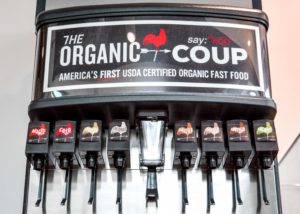 Finally, we created custom soda label decals for The Organic Coup's refreshing drinks (coconut and ginger beer soda? YES PLEASE!) to keep their branding meticulously consistent, all the way down to the smallest, but equally significant elements.
We highly recommend checking out The Organic Coup's feisty signage and tasty tots the next time you're in Bellevue's City Center!
Are you moving to a new location, expanding your space, or looking to change up your atmosphere? At Shine On Signs and Graphics, we love creating packages to transform your space and build a seamless atmosphere for your customers. Check out some of our indoor graphics with our interactive map HERE, shoot us a message HERE, or give us a ring at (253) 243-7777 for a free quote!