If you have a lobby, you need a lobby sign—plain and simple. A tasteful, well-made sign not only tells clients and customers where they are and where they need to go, but it communicates your company message and level of professionalism. When your clients walk in for the first time, you want to do everything possible to reassure them that they're in good hands. It maintains brand continuity and shows people you take pride in what your company stands for. No matter what your branding is, from spunky and colorful, elegant and intricate, to bold and serious, your lobby sign helps create the right atmosphere for your customers.
A lobby sign is meant to enhance your office atmosphere and show off your company's character, so it's no surprise this sign type has a wide range of customizability, from size, thickness, color, material, and application method. We'll go over each of these in a series of posts. In this post, we'll talk about eight materials and their benefits, so you can start dreaming up ideas to give your office a new look!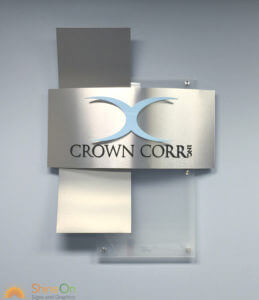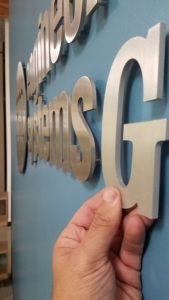 1. Metal
Metal signs are often used to convey reliability and longevity. It is a popular choice among law firms and banks to instill trust in their clients and customers. With the rise of materials that imitate metal, genuine metal is becoming more reserved for outdoor use, where durability is a necessity. Metal letters can be created from copper, bronze, brass, aluminum, and steel, with finish options including oxidized, brushed, polished, enameled, gold, and patina.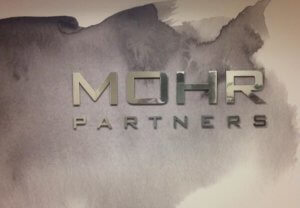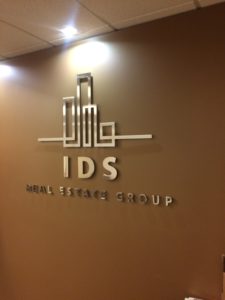 2. Metal Laminate
Metal laminate, like true metal, communicates permanence and stability from a business that has been around for a long time. Metal laminate mimics the appearance of real metal, so you can add an air of sophistication to your office space without having to break the bank. A thin piece of metal laminate is adhered to a substrate made of PVC, foam, or acrylic. The substrate is usually then painted to match the metallic sheen of the metal laminate. Brushed and polished metal are the most commonly requested finishes, and metal laminate can mimic both!

3. Foam
Foam is the best option for those that want to get the most out of a lobby sign's 3-dimensional possibilities. The options for color use are nearly infinite with foam letters, so they are a great choice for businesses with a specific color palette or those that want to reveal their creative side. Laminates such as acrylic or metal can be applied to the surface of the foam letters to create a glossy, elegant appearance. Foam is easier on the budget than most materials, bringing flexibility to businesses that want to put dimensional letters in multiple areas inside the office, such as the main lobby and a conference room.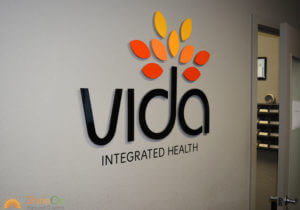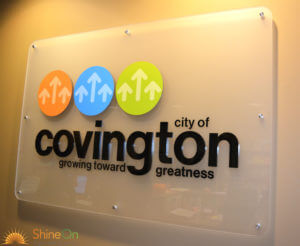 4. Acrylic
Acrylic is perfect for businesses with an intricate logo and bright colors. Thanks to precise laser cutting, acrylic letter edges are crisp, and shapes are immaculate. Schools, charity organizations, and companies that wish for a more artistic sign tend to reach for acrylic letters. Acrylic comes in 30 basic colors, but custom colors can be created to match your distinct palette. The acrylic itself can be pigmented, or the letter exteriors can be painted. In addition to specific colors, acrylic can have a crystal ice finish, which consists of a frosted face and sides with a color-painted back, or metallic ice finish, which has a frosted face and sides with a metallic, silver-colored back.

5. PVC
PVC is an affordable, versatile, and durable plastic material used for both indoor and outdoor signs. It's lighter and often thinner than acrylic, and a matte finish hides fingerprints while reducing any potential glare from your lobby lights. This material can withstand heavy pressure without bending or warping, meaning your lobby sign will be easy to maintain for a long time. PVC can be painted with graduated colors, and it can be engraved or routed to perfectly match your design.
6. Formed Plastic
A tough, recyclable plastic that is fade resistant and UV stable, formed plastic is highly customizable and often guaranteed for life. A sheet of durable plastic is placed over a mold, then heated and melted until the plastic sheet takes the mold's shape. Formed plastic letters are lighter in weight and offer greater depth than flat-cut acrylic or PVC letters. Close to 50 standard font options already exist, but your unique shapes can be replicated as well. There are many paint and finish options including gloss, semi-gloss, satin, matte, multi-color, and even chrome. The color, size, and shape options are virtually limitless with formed plastic.

7. Wood
A less common choice, though beautiful nonetheless, wood is often used for businesses projecting timelessness, wisdom and tranquility. For companies with lobby decor that would clash with metal or metal laminate, wood is a brilliant choice, guaranteed to command attention. Wooden lobby signs can be created in the form of a panel, cut letters, or even a sandblasted pane mounted on the wall. Other materials can be combined with wood, such as acrylic letters on a wooden panel. Wood can be stained with your color choice, and you can choose between a plain or beveled edge. Some of the most attractive wooden signs are manufactured with live edge panels, showing a piece of the original tree bark to add elegance to your lobby.

8. Digitally Printed or Cut Vinyl
If you're looking for something on the simpler side, digitally printed or cut vinyl graphics are the way to go. With full color digital printing, you can achieve an exact match to your logo and desired design. Printed vinyl is similar to a large sticker. Inks are deposited onto clear or white vinyl, which is perfect for those with intricate designs and multiple colors, gradients, photos, or any combination where color specificity is important. Digital ink will fade over time, so a protective laminate is necessary to ensure a long life.
Cut vinyl has the background of the image cut out, so your design would appear to be hand painted onto the wall. Cut vinyl signs have a limited selection of color options, as they are die-cut from pre-colored rolls of vinyl. However, multiple colors can be layered during installation if you need more than one color.
When applied, wall graphics will have the same effect on your atmosphere as a dimensional wall sign, but with a flat surface instead of raised lettering.
Combination of Materials
Any of the above-mentioned materials can be used in combination, exponentially multiplying your signage possibilities. Whether it's metal laminate on a PVC substrate or vinyl graphics on an acrylic panel, your sign will be as distinct and memorable as the goods and services you provide.
From genuine metal and wood, to imitation materials, custom designs, and an endless selection colors, your sign can reflect the individuality of your business while bringing life to your lobby.
Are you looking to add flair to your lobby? Shine On Signs has a dedicated team to help you choose the best design, materials, and installation tools for your specific business.
Check out more of our lobby signs HERE and shoot us a message HERE, or give us a call at (253) 243-7777 to get a free quote!