As I sat in traffic I realized that I've spent over 40-hour driving this month. Imagine what I could do with that time. Maybe it shouldn't be a waste of time. Imagine what 40-hours of advertisement could do for your business. Traffic can be a great option for advertisement after all individuals in Washington state spend an average of 58 hours a year stuck in traffic. Not all companies require an office, some are on wheels. So why not get your vehicle tailored to your company? 
Fleet graphics can consist of a full vehicle wrap or partial wrap. Though there is not much of a difference, a full vehicle wrap can be more costly than a partial wrap. Yet, both can provide the same level of advertisement your business is looking for. Fleet graphics can last up to 7 years if properly cared for.  
Once you've decided that fleet graphics are the right choice for your business, preparing for graphics installation is the next step. Preparation for vehicle graphics is simple; make sure to wash your vehicle with soap and water the day before the installation and Shine On Signs will take care of the rest.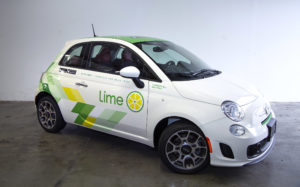 One of Shine On most notable fleet graphics projects consists of infamous Lime cars. This project consisted of 500 cars which were to be partially wrapped. It took the Shine On team 35 days to complete. To watch the full video, please click on the link below.  
https://www.youtube.com/watch?v=TcYz_vUjhEk 
Contact us today at info@pugetsoundsigns.com or 253-243-7777