Writing on walls is one of our earliest cultural acts. So, it's no surprise that Wall Murals are once again making a comeback, this time in the corporate and retail world.
Why are companies spending their hard-earned dollars on these giant pieces of art inside the offices and stores they run?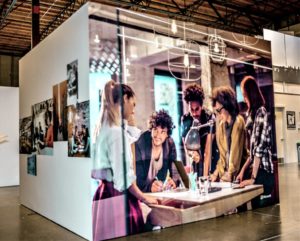 1.) There have been numerous studies linking art in the workplace and healthier, happier (i.e., more productive) employees. People who work in an art enriched office work 15-30% faster than those working in plain offices. Viewing artwork helps workers reduce stress and restore mental energy, which boosts brain performance and has been linked to lower levels of anger in the workplace. This builds a less frustrated, more enjoyable and collaborative workplace. As author Simon Sinek said, "Customers will never love a company until the employees love it first."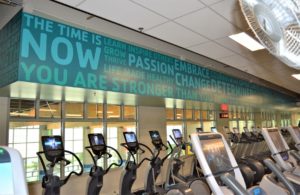 2.) Other studies have shown that bright, bold murals effect customer's emotions and entice them to stay longer and buy more. Shoppers today would much prefer to spend time (and money) browsing through a well-designed, creative space than a boring space with blank walls. Murals not only get people through the door out of curiosity, they also result in word of mouth advertising. Who doesn't like to share fun stores with their friends and family?
3.) Artwork in the workplace shows what makes your company unique by promoting your values, identity and culture. It also shows the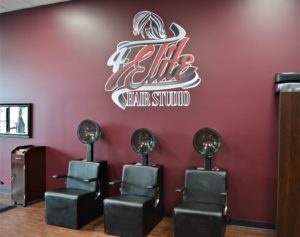 management cares enough about the employee and customer experience to create a facility people feel good about working in. Consider using your mission statement, your logo or customer testimonials as part of the image to really get across your brand.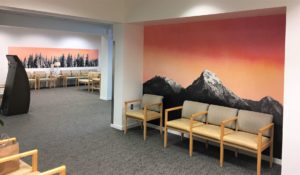 4.) They instantly energize your space by adding dynamic, visual interest. With custom wall murals, you can easily make use of the power of color theory to create the effect you desire in each space. Even better, your business will be unique, which means share-worthy in today's social media culture (= free advertising!)
5.) Brighten up the parking garage of your multifamily residence. This is the first and last thing residents see every day of their home. Make your residence a place people are happy to come and go (and pay you their rent dollars) by using murals for wayfinding signs and to brighten up what is usually a dark, dreary place.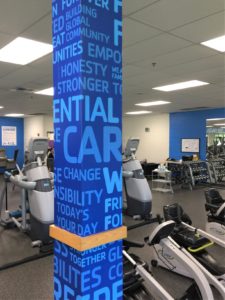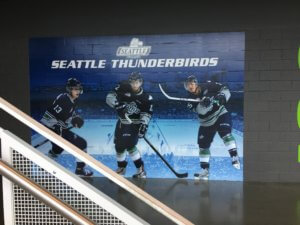 6.) Large-print graphic murals can go just about anywhere– walls, ceilings, windows, floors, textured surfaces, even the exterior of a building. They are low maintenance but can be changed on a whim if desired.
7.) The reception area is where you make your first impression- the perfect spot for a unique, memorable mural. They can be a tool for wayfinding in large buildings, can open up a cramped conference room and can break up large open areas with branded messages or company goals. Put a timeline in a hallway to announce and celebrate all your milestones.
8.) Murals can be used to promote an event, service or product. Include a QR code on part of the mural and mobile geofencing, and it can prompt mobile push notifications, trigger text messages, or send targeted ads on social media to your loyal (and more importantly- nearby) customers. Location based, hyper targeted marketing is going to be the next big marketing trend. This is an easy way to jump on board.
Do you have a blank space that would be improved with a bold piece of artwork? Ask our team at Shine On Signs about our custom wall murals and start reaping the benefits!