When you visit an establishment for the first time, it's always helpful to see signs guiding you to your desired destination. Wayfinding signs are an essential detail when planning your facilities, promotions, or events. A wayfinding sign refers to a sign used to direct visitors through your building or office environment both inside and outside. But did you know a wayfinding sign serves more than a directional purpose? Wayfinding signs are also used to communication important information quickly.
Our wayfinding signs can be broken down into 3 main categories; regulatory, informational, and directional. Each one of these categories serves an individual purpose and work well when combined to provide a clear message.
Regulatory-. Regulatory signs, often part of ADA signs, are a vital part of any public building space. Informing patrons of the rules, regulations; and codes for a building or area is important for legal reasons as well as safety reasons. There are a variety of regulatory signs that you may need for your space.  Some types of regulatory signs include pool rules, parking zones, no running signs, fire extinguisher instructions, building capacity signs, room capacity signs, bathroom signs, wet floor A-boards, warning signs, no trespassing signs, and more. All these signs have one common goal: to keep all people in any workplace or public space informed and safe.
Informational– Exit signs showing a gas station or restaurant quickly and effectively communicate a message to drivers and passengers. These signs fall under the informational category. Informational signs are also important to businesses as they communicate information quickly. Common business informational signs include but are not limited to; business hours, temporary closures, and special events. These signs provide quick and vital information through a legible font or picture.
Directional– Directional signs guide visitors through a location to their desired destination. These signs are key to let your visitors and customers know where your business is located within an office park or what floor your business is located on. Directional signs can be placed in the main entrance or lobby of a building and throughout the hallways to notify people of fire exits, elevator locations, restrooms, and just about any pertinent location that might be utilized.
Your custom wayfinding signs can be made to match your building design, company logo, or branding colors to create complimentary signs that will enhance your visitor's experience, keep them notified of safety rules, and inform them of any important information.
At Shine on Signs and Graphics, we work with you to identify any wayfinding signs required for your site. We review your signage needs to identify the sign that will provide the most value to your customers or clients. We will also ensure that the signs meet any building & city codes to ensure properly manufactured and installed signs that meet all legal criteria.
If your business is interested in ordering wayfinding signs, call us at 253-243-7777 or email us at info@pugetsoundsigns.com and we can help create a custom sign package which will create impressions that last forever.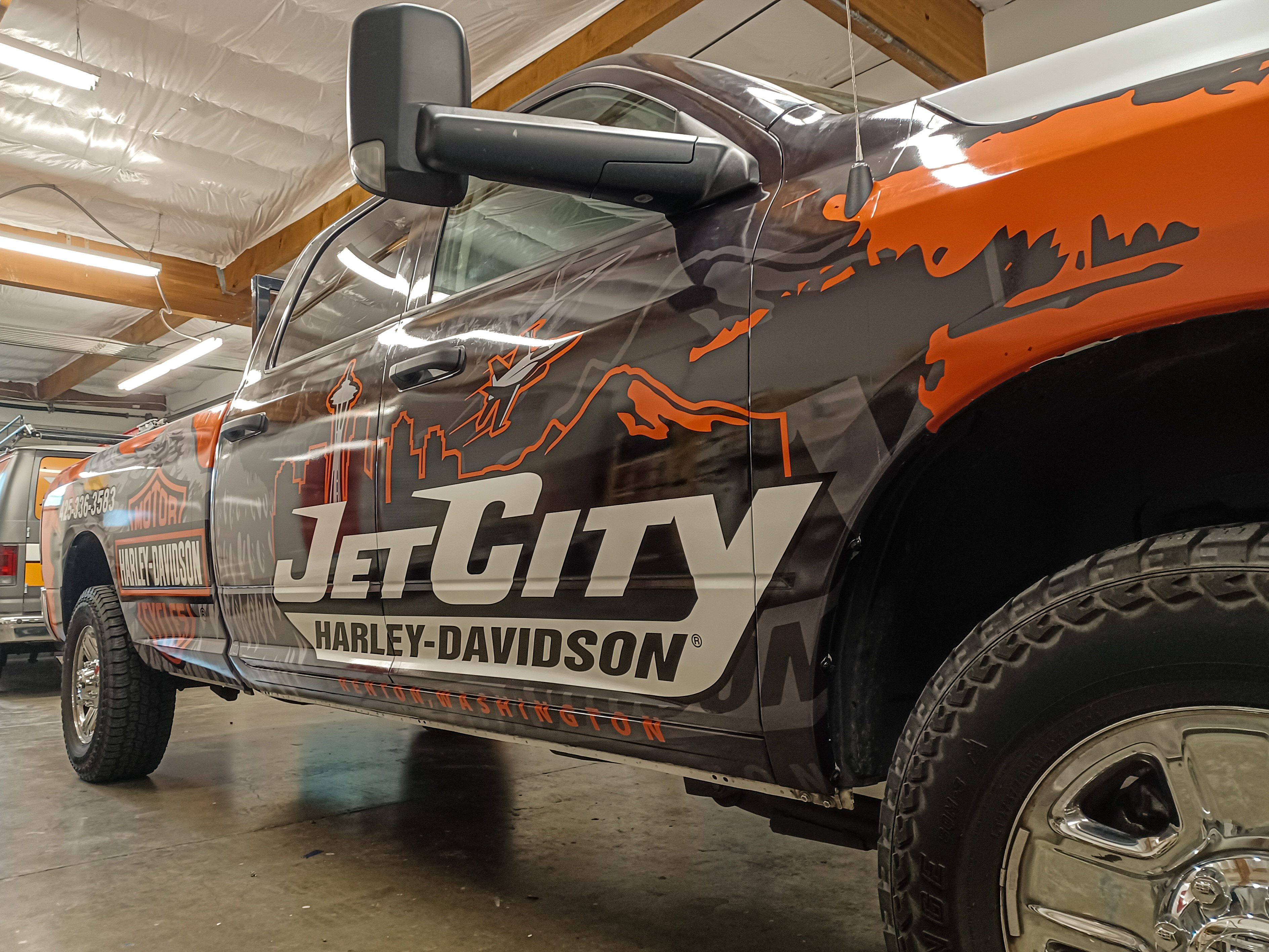 Here is another wrap job we are excited to share with you! A trailer, a golf cart, and two trucks left here looking amazing! I will let the photos and video speak for itelf!