Alexander Party Rentals is Seattle's premier party and tent rental source. Alexander Party Rentals has been owned and operated by family since 1991 and is now in their second generation of ownership. They offer a diverse range of equipment "from engineered tents and staging down to basic table settings and linens" and work with a variety of "organizations and individuals to plan events large and small, from the annual corporate party to an intimate backyard wedding". The company has continued to grow and expand in their second generation of ownership and recently acquired a new trailer.
The company purchased a large 53' trailer to transport party rentals to various events throughout the Puget Sound region. With the company frequently using the trailer through town, they were able to utilize the large space as an advertisement for their company. By having Shine On Signs and Graphics install their company logo on the trailer, they will now be able to use the trailer as a mobile marketing tool and create impressions with potential customers as they drive to various job site locations. The trailer's large vehicle decals were created using Asprire Vinyl cut letters and stands 57" tall and 200" inches wide!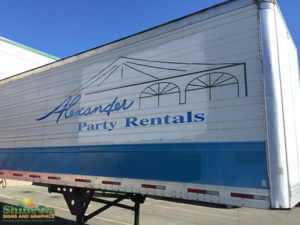 Companies who frequently use vehicles, or fleets, for deliveries or customer service calls can advertise their business while out on the go with custom vehicle graphics. Increasing your company's brand awareness among potential customers can be one of the best ways to drive sales. Customers will become more familiar with your brand adding to it's value. Adding your phone number and address will also help customers locate your business with ease [learn more]. For companies looking for a less permanent option, we also offer vehicle magnets. Vehicle magnets can easily be added and removed or replaced. Small and large business alike can profit from advertising with the affordability of vehicle magnets.
If you are looking to add advertising to your vehicle with wraps, graphics, or even magnets, call us today and we can create a custom proposal!