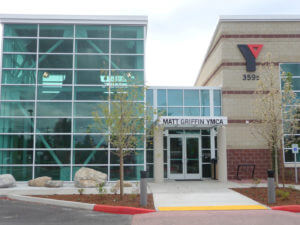 Matt Griffin YMCA offers a state of the art facility and was created with the community in mind. Their facility offers group exercise, pool, lap swimming, yoga, pilates, zumba, cycling, strength training, and even more for the community located in Seatac, WA.
The Matt Griffin YMCA contacted Shine On Signs and Graphics looking for a way to display their new banners and maximize the exposure they would receive. While most banners are traditionally hung from a building or wall, the YMCA was searching for a way to reach cars and people who pass by on the main road. An outdoor banner frame was the perfect solution for their advertising needs and will allow them to increase their audience.
These free-standing frames are made out of metal and were assembled by our skilled team. Each banner stand has two poles which are placed directly into the ground. The banner is then securely placed in the middle of the frame utilizing the grommets. One of the best features of a banner frame is its ability to be used time and time again. Banners can easily be switched out to promote different events or sales making it an advertising investment for your business.
Using a banner frame gives you the chance to display your message in an area that might not have been a possible with a traditional banner. They also help to keep your message clear learn more by stretching your banner and eliminating any wrinkles that might occur from traditional hanging. By keeping the banner pulled taut, the life of the banner will be extended as the banner is less likely to be exposed to wind damage like a traditionally hung banner would.
If you would like to take your advertising to a new place with a banner stand, call us today to have one of our team members start a custom proposal!