No matter your industry, a monument sign helps people find your location and understand your message. An eye-catching custom design makes you stand out from the sea of competition.
A monument can be described as a free-standing structure placed outdoors and often near a main road. Monument signs help identify building structures and the businesses residing inside of them.
There are many different types of monument signs, from post-and-panel options to pylons, digital displays, and architectural free-standing building signs. Customization options are nearly unlimited, making them one of the most versatile sign types in the industry. In this article we will explore the many post and panel material options.
Post and Panel Monuments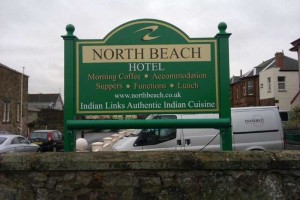 Just like it sounds, post and panel monuments are made up of…well, posts and panels. We've discussed some post options previously. The fun part is the panel sign face, as there's even more room for customization.
Aluminum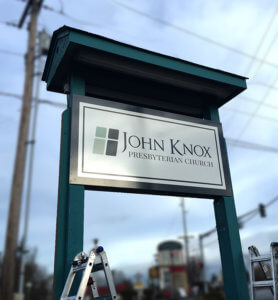 Aluminum is a durable, weather and rust proof option that will stick with you long term. We typically use aluminum 6 millimeters thick when making these types of signs. The ability to mount the panel onto u-channel or square steel posts, fences, or walls and print any design makes this option highly customizable. Your logos or images can be printed on vinyl, then adhered to the aluminum or aluminum composite panels, giving you more options when it comes to design.
Economy PVC
PVC is a budget-friendly option that works great with full color and detailed designs such as maps, colorful photos, or any other more intricate design. This route requires no maintenance, resists harsh weather, and offers great value for a low price.
Layered Color (3D Look with Dimensional Elements)
Multiple layers of color can exist on the sign face. Your logo and lettering are routed out of the top layer to reveal the second color underneath, with no painting to upkeep. Different colors and thicknesses can give your sign plenty of customizability when it comes to adding depth and dimension, and material options include aluminum, acrylic, brass, bronze, PVC, and more. Depending on the materials you choose, this sign can be borderline indestructible, and hold up well in even severe weather conditions.
Sandblasted Dimensional
Creating monuments using sandblasting methods are great on both real wood or a urethane composite to give the appearance of wood without the need for as much maintenance. The composite panel resists warping, cracking, and rotting. Urethane paint is chip, peel, and fade resistant. Sandblasted signs are extremely durable, and the lack of maintenance will save you time and money in the long run.
V-Groove Routed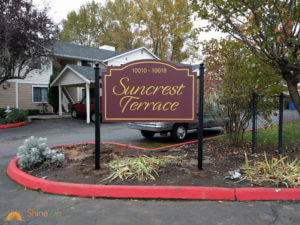 V-groove signs are created by routing letters and designs into the panel to give your sign depth and dimension. This is done using the same weather-resistant urethane composite panel as most sandblasted signs, so there is little upkeep involved with this monument sign type. The paint used resists chipping, fading, cracking and peeling.
Know which material you'd like to use? Overwhelmed with the possibilities and need an expert opinion? Shine On Signs is a dedicated team of experts ready to help you perfect your next big project!
Check out our monuments HERE.
Get a free quote HERE.