Ok ok, so the title's a bit of a mouthful! Basically, we wrap lots of vehicles – from full car wraps, decals, partial wraps, trailer wraps, boat wraps, and even fleets graphics for garbage trucks (think Republic Services)! We are quite prepared to wrap a vehicle anywhere any time, but like everyone, we have our preferences. As one would expect, here in the pacific northwest, we have a lot of weather related events to deal with. For that reason, we prefer to wrap your vehicle indoors. Not just so our installers stay dry and cool (or warm), but so your vinyl application is done as best as it possibly can be.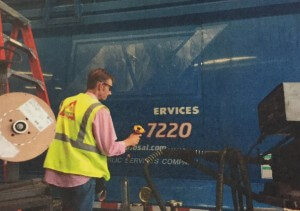 As the summer months are approaching, we are (finally) about to start seeing the sun and warmth. When it's hot, vinyl becomes sticky and stretchy. This makes it a bit more challenging to work with. On the opposite side of things, if it's cold, the vinyl becomes brittle and difficult to stretch. This causes another problem because even after heated and applied, it may shrink a tad bit leaving a gap (don't worry, we do try to prevent this when it's necessary to wrap outside).
Temperature alone is enough reason to wrap inside- but we also have to contend with rain and the occasional (although infrequent) snow. At Shine On Signs we have our large bay door that we can drive your vehicle inside our temperature controlled facility and wrap away. Even better, besides the improved conditions for applying the vinyl, our installers are dry and comfortable too – and dry, comfy installers are happy installers!
Schedule your vehicle to come in and have it's graphics installed at Shine On Signs. Don't have those graphics yet? We can help! We offer custom designs to fit any vehicle. Contact a Shine On Signs team member for a free proposal, or to schedule an install!